Opportunities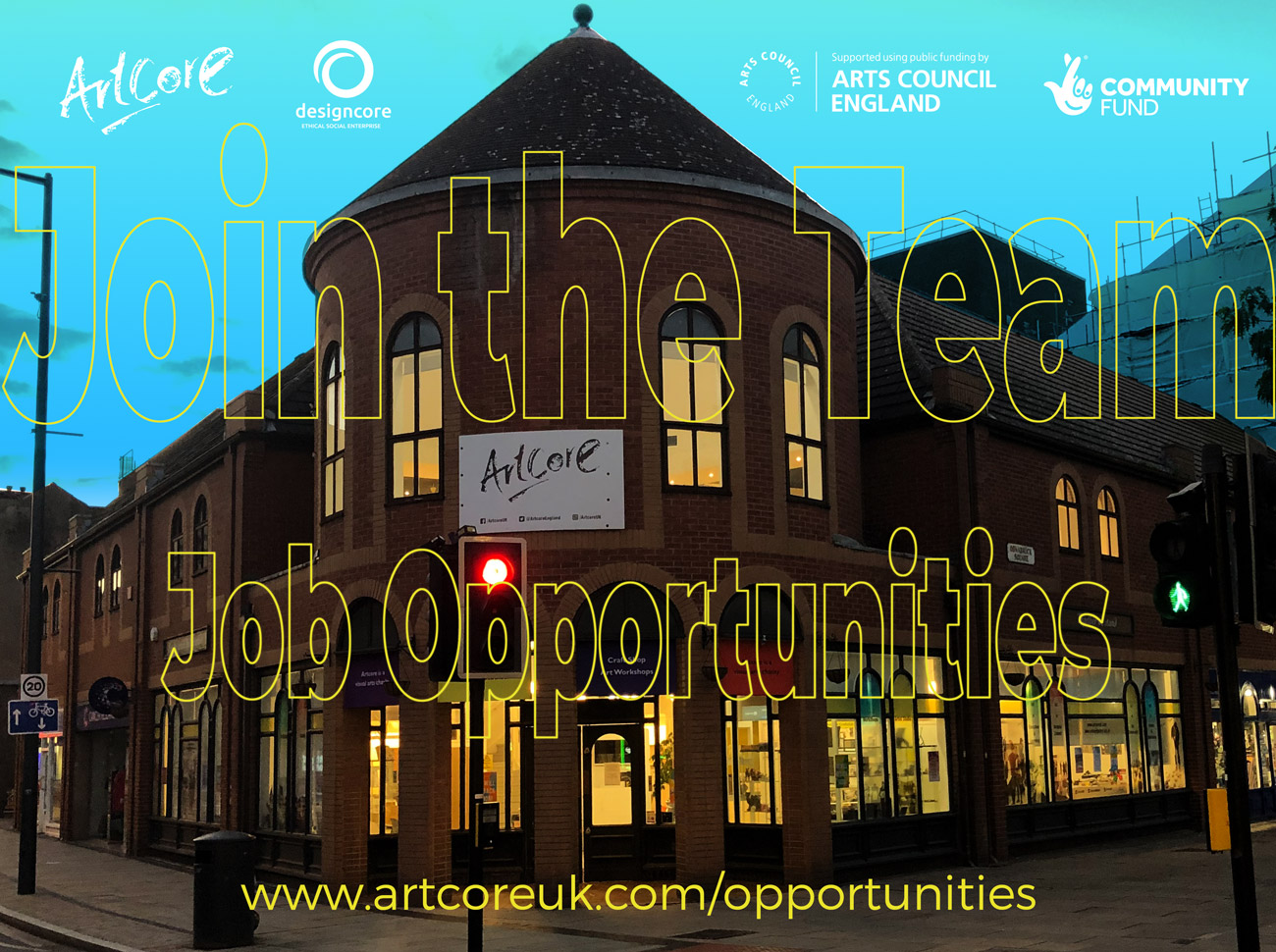 We are always looking for enthusiastic people who share in our vision and can help us achieve our mission. Maybe you could be a part of our team or support us by volunteering with us! Artcore's success depends on the hard work and enthusiasm of its staff and volunteers. Working at Artcore presents inspiring opportunities, including the chance to discover new hobbies, take part in community projects and even create works of art of your own.
Artcore receives enquiries regarding job vacancies, work experience, work placements and volunteering. All our available opportunities are advertised in this section of the website. We can notify you of new opportunities as they arise if you sign up to our newsletter.
Job Opportunity
Assistant Curator
(CLOSED)
Location: Artcore Derby
Position: Full time
Part time: 37 hours per week – with the ability to work flexibly 
The post holder will be working closely with our Artistic Director and programme producer with a background working in a fast paced arts environment.  Assistant Curator will be a creative and focused individual with some previous experience, knowledge and understanding of the visual arts.
They will be a highly motivated, passionate individual, with a resourceful and entrepreneurial approach to their work.
They will support programming – both across our planned programme and developing new projects and content, and new partnerships online and onsite – and will have skills and knowledge in the production and distribution of digital work, as well as supporting the onsite programme.
This is an exciting opportunity for individuals looking to play an important role in supporting the organisation.
To find out more about this exciting opportunity please download the job spec below.
Closing date for applications: 4th April 2021
Potential Interview dates: 13th or 14th April 2021
Anticipated start date for role: Immediate
To apply please send your current CV and a covering letter with the Position applying for in the subject to info@artcoreuk.com or post it to (Artcore, 3 Charnwood Street Derby DE1 2GT)
Artist Opportunity
Cabin Fever
Callout for Artists in Residence
"Cabin fever (noun) a state characterised by anxiety, restlessness, and boredom, arising from a prolonged stay in a remote or confined place."
As a result of the first and now second lockdown, many of us have had to spend time in isolation and confined in our homes, and we'd like artists to respond to this theme by literally taking up residence in our cabin in Derby City Centre.
Artcore's Gallery, in the centre of Derby, faces onto Osnabruck Square, (named after Derby's German twin town of Osnabrück) in which there are three 'cabins', small retail units that operated as a café, a flower stall and a newsagent. Working in partnership with Derby City Council we now have the use of the former newsagent, and a budget for artists to take up residence in it for a month at a time between January and June 2021.
The Callout
We would like artists to propose projects and activities which they can work on in our cabin for a month at a time. We have some specific aims we'd like artists to address:
To creatively engage with members of the public
 To run around four public workshops for members of the public during each residency
 To enhance and animate the area using your creativity
 To celebrate the people and communities of Derby
We've also suggested some themes that you can respond to, though we are open to suggestion if you have your own ideas
The climate emergency and Henry David Thoreau (More information)
Thoreau was an American naturalist, writer and poet (1817 – 1862). His most well-known book 'Walden' is about simple living in natural surroundings and self-sufficiency. In 1845 he built a simple 10 foot x 15 foot cabin with a fireplace, table, desk, bed, and 3 chairs. Living there, he read, wrote, walked, observed nature, talked with occasional visitors, and thought deeply; activities that fulfilled Thoreau and fed his soul. He spent 2 years 2 months and 2 days living in his cabin at Walden Pond and later wrote about his experience.
Good News for Bad Days – The cabin was a news kiosk, so we suggest using it as a small press, where people are invited to print (letterpress, silk screen, etc.) posters, leaflets, broadsheets, but instead of focusing on bad news and big stories, we could focus on sharing positive personal stories as if they were the front page of the newspaper, so there is a participatory element and the work is distributed to readers.
Street Art – Enhancing the area – Using the outside of the cabins and the square, making it colourful and vibrant, engaging young and old to be a part of the project, maybe including a street art and pavement art festival.
Format Photography Festival – The March residency coincides with FORMAT, the UK's leading festival of International Photography.
We are offering each artist:
An inclusive Artist bursary of £500
An Artist blog and digital platform throughout the residency to share the progress of the work
Residency space at our cabin and Artcore Gallery
A chance to deliver artist talks and workshops at Artcore Gallery and online
Mentoring and curatorial support throughout the residency
Publicity and marketing support
We welcome applications from artists working in any visual arts discipline, and with a cross-disciplinary practice.
We expect artists to have a commitment to developing their practice, and to engaging in dialogue with Artcore and our audiences and the wider international contemporary arts and cultural sector.
About Artcore:
Artcore supports and promotes the work of contemporary artists and uses art to bring about positive changes to the lives of people of all ages, abilities and cultural backgrounds. Its main activities include exhibitions, residencies, screenings, talks and festivals alongside daily workshops for adults and young people, many of which have moved online during this and the previous lockdown.
Artcore is a visual arts charity with bases on Charnwood and Albert Street, working within communities locally, nationally and internationally. It endeavours to operate as a cultural hub, fuelling active engagement for a diverse range of communities in Derby, the East Midlands and beyond. Artcore's long-term objective is to use arts and crafts as a vehicle to strengthen community cohesion, educate, raise awareness and provide a platform for development. Through its creative work it is committed to bringing change into the lives of people of all ages, abilities, cultural and ethnic backgrounds. Artcore is also an Arts Council England National Portfolio Organisation.
Our Location:
Derby has a developing visual arts culture, with galleries at QUAD, Derby Museum & Art Gallery and at Artcore, a University with Undergraduate and Postgraduate courses in the School of Arts, and much DIY activity across the City. Artcore has hosted three annual Visual Arts Summits, and is the lead organisation in supporting the development of the visual arts ecology of Derby.
We have recently taken on a large City Centre space, and Osnabruck Square, close to our new Albert Street building will be the residency venue with access to space and resources in the gallery nearby.
Timetable: 
Residency slots are one month:
January 2021
February 2021
 March 2021
April 2021
 May 2021
June 2021
We will accept applications at any time but please apply by 23 December if you'd like to be considered for the January slot, and let us know if there is a specific slot you would prefer.
To apply visit https://www.curatorspace.com/opportunities/detail/cabin-fever–callout-for-artists-in-residence/5008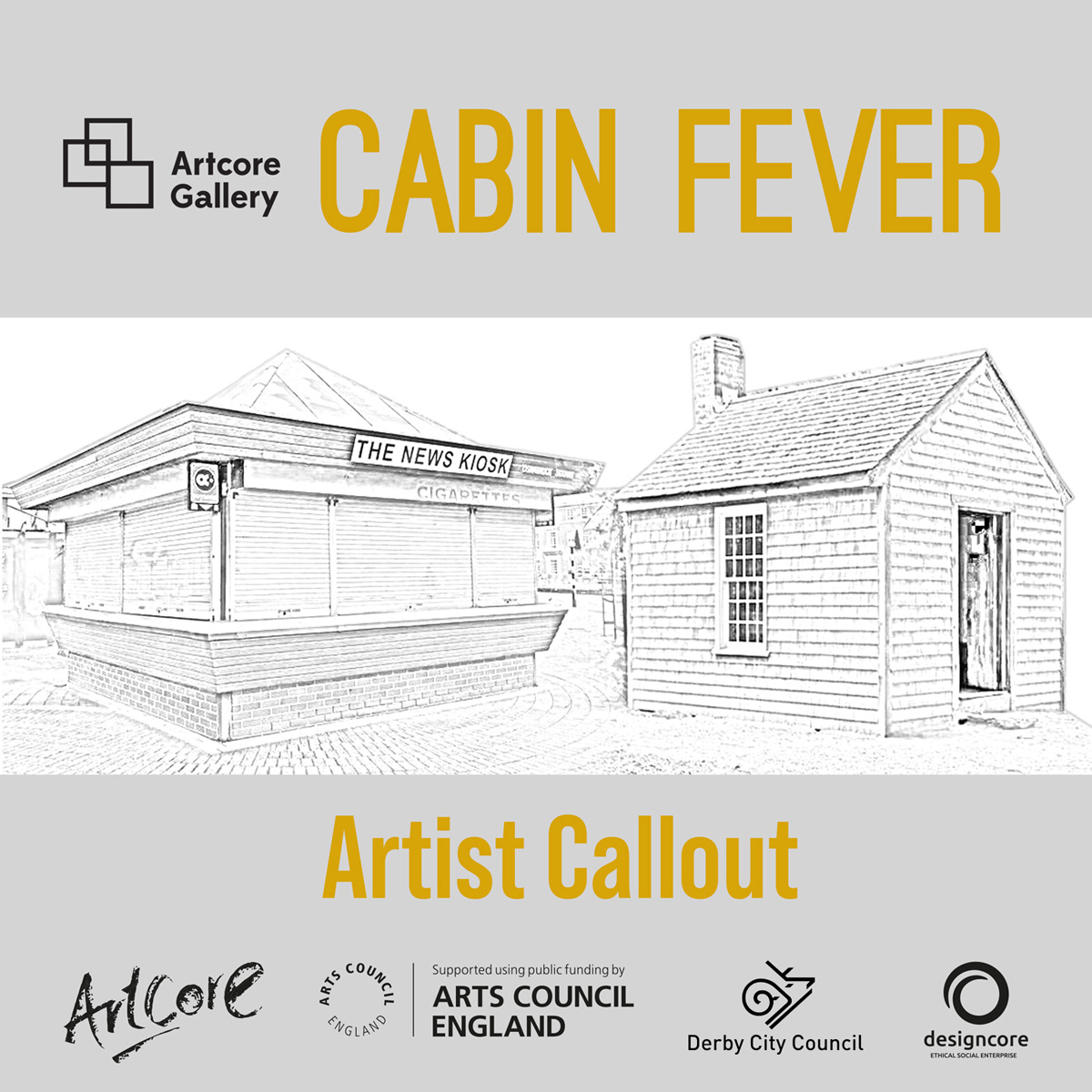 ---
Volunteer Opportunities
Volunteering at Artcore can boost self-confidence and motivation. Working as part of our group will give you the chance to build communication skills, meet new people and learn how to work in a team. In terms of your career, Artcore can help your CV stand out from the rest. Volunteering shows commitment and passion, which are qualities that any employer will appreciate. Volunteers can gain official recognition for their efforts, for example in the form of a Inspired award. Artcore volunteers have been acknowledged by certificates and a fantastic job reference. Volunteering can open up exciting opportunities; in the past Artcore volunteers have obtained work placements in Italy, Malta and Spain.
Our volunteers contribute to the community and have the chance to make a positive impression on the lives of the people they work with. Volunteers have the opportunity to inspire people. Volunteering at Artcore will give you the opportunity to gain skills and confidence, expand your horizons and build new and lasting relationships.
If you are interested in applying for any of these positions, please send your CV to: info@artcoreuk.com
Artist
Volunteers will work on visual arts projects, working alongside other artists to deliver projects. Volunteers will gain experience working in a variety of mediums with a variety of people and experience different cultures and styles. Mediums used include plaster, clay, mosaic and painting. Volunteers must be enthusiastic, hard-working and motivated. An interest in art is essential. Experience of working in this field would be advantageous.
Fundraiser
A volunteer position is available for fundraising for a non-profit organisation
Administration Assistant
This is an exciting opportunity to work within a non-profit organisation as an administration assistant. The role entails providing general administrative support, greeting visitors and responding to a broad range of enquiries. Tasks will include drafting and sending out documents, taking notes of meetings and producing minutes, dealing with enquiries and maintaining the filing system.
Support Assistant
Volunteer to offer general support. Applicants are required to be flexible and work in all areas. This includes office based administrative tasks, housekeeping, and hands-on tasks.
Painter and decorator
Volunteers will carry out painting, decorating and hands-on tasks at Artcore premises. These will include building maintenance, preparing exhibition space and installing the exhibitions themselves.
Apprenticeship Opportunities
Currently we do not have any apprenticeship opportunities. Please check back later.