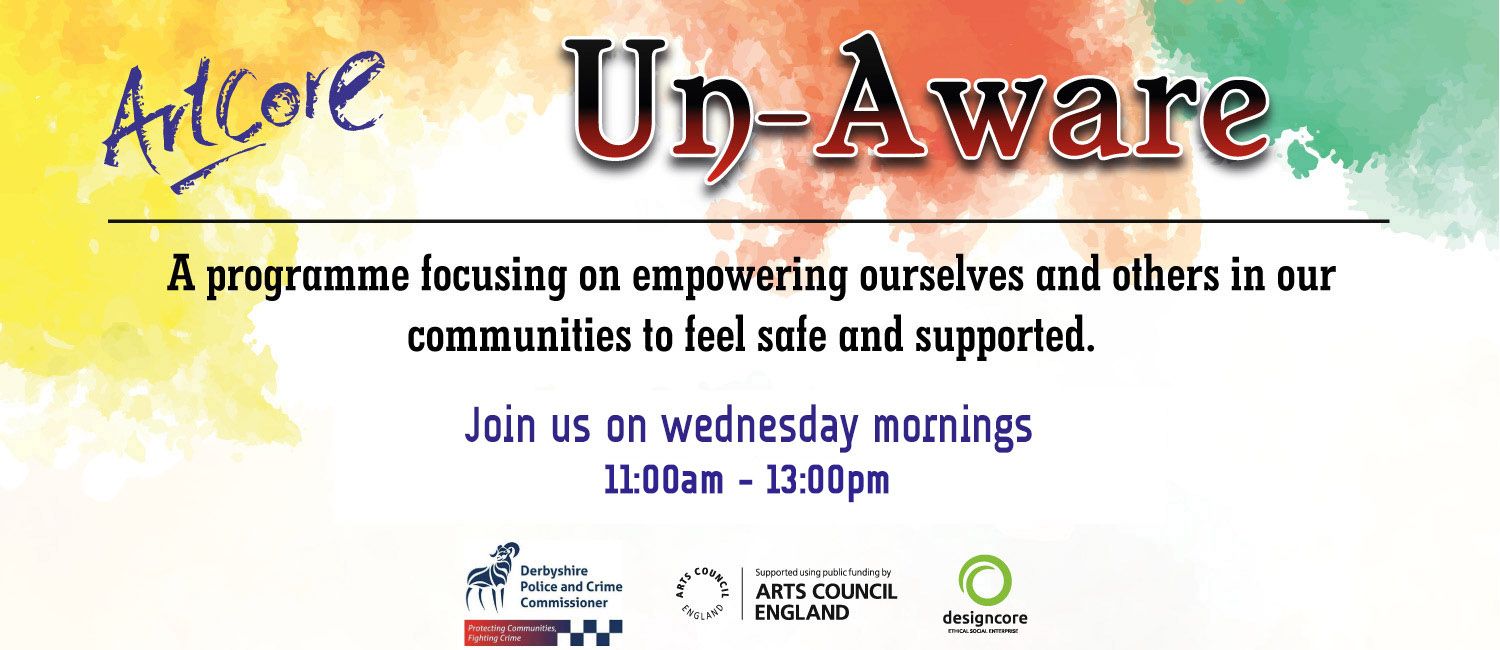 Artcore is starting a new project funded by the Derbyshire Police and Crime Commissioner which will involve working with adult groups in the community.  Through a social and artistic programme, we aim to provide people with the tools to help keep them safe from crime and to provide avenues for support if they have been victim to crimes in the past.
Un-Aware is an empowering project which hopes to boost the confidence of the participants and provide them with new experiences and chances to further their social networks.  Throughout the project, we hope to offer participants with opportunities to volunteer at Artcore, join coffee mornings or other social events.  Increased confidence, self-esteem and positive experiences for adult participants.
Wednesdays from 11.00am-1pm on Artcore site at 3 Charnwood St, DE1 2GT, Derby
Sign up at http://bit.ly/Un-Aware2021
PROJECT UPDATE
Our Final Community Spirit Session – 5th November 2021
Over the six weeks we have made some really wonderful work for the Un-Aware project at ArtCore. The ideas about our community have been really positive and we have made work about the amazing diversity surrounding our areas. The group piece of Our imaginary high street, was contributed to by all involved; we had such fun making it! It is a stunning piece of work. Well done everyone!

Diwali Lanterns – 27th October 2021
This week we mixed up the session a little to focus solely on Diwali.  The participants each had two glass jars, every colour you can imagine and an abundance of sparkles and buttons which the used to transform their jars into Diwali lanterns.  The sessions was chaotically but everyone was quieter than usual due to the focus and attention on completing the lanterns.  Some participants also created mandala paintings using their own designs and watercolours.  It was certainly a very productive session and everyone is looking forward to lighting their lantern at the Diwali Party next week.
Community Spirit Group Work – 13th October 2021
Today we started on a group piece of work adding individual drawings of different buildings within our community. It looks great and this week we shall finish by adding colour to it. The variety of different techniques, styles and ideas looks amazing all within the one piece of work.  Everyone has their own paintings and drawings to finish, some creating lots of layering and texture which, others are simply working on drawing elements from their neighbourhood.
Multiculturalism – 29th September 2021
This week the group discussed multiculturalism and we thought of ideas on how to create work around this theme. Some chose to paint different heads in a variety of colours, using collage techniques and drawing into the work with pencil and pastels. Some of our group drew from memory, members of their community in detailed line drawings.
A Celebration of Togetherness – 22nd September 2021
This week we had a very special session at Artcore Café and Shop to celebrate Derby Peace Week!  Continuing on the theme and the importance of community, we did still-life painting of peace lilies.  We had a few new people join us which was lovely and enjoyed music by Baby People, chatting to the Mayor of Derby and meeting Imti Choonara in person who spoke to the group back in April on Zoom!
A View of the Local Park – 15th September 2021
In your Community Park….
We each had a different take on our favourite community outdoor space, some painting their local park, or their own front garden. These were translated on to canvas, using acrylic paint and oil pastels combined.
Community Spirit – 8th September 2021
Last week we had a lovely session working from ideas centred around the theme of Community Spirit. We each made a unique logo which was about our idea of what community means to us. Lots of fun and some brilliant drawing and fabulous painting!
This week we are concentrating on "a view of your local park"!
Coffee Morning – 1 September 2021
After finishing the third block of Un-Aware, we invited the participants to join us in a Coffee Morning at our brand new café & shop on Albert St. We looked back at all the fantastic work produced and celebrated the amazing outcome of the block whilst having a nice cup of coffee. Participants had a chance to show & tell about their work and how the project has helped them in many ways from mental health improvement to making new friendships & learning new skills. We also had a registration table for newcomers to sign up if they wished to. Overall it was a lovely morning and we are looking forward to starting a new block soon!
Safety At Home – 18th August 2021
Today's session was a very fun and messy one, our gallery manager Linda Foot who is also a collage artist behind all of our creative packs, has come in to help with this session. On the theme of 'Safety At Home' participants carried on with the clay keepsake boxes  and created another set that they could truly personalise it in their own way. The box is to serve as a space for precious or special keepsakes that are important to the person, a gift for a loved one, or as a box to keep those difficult memories inside. The idea is to have a box of something you want to remember or close off something you are not ready to explore. Participants have through about the use of their box and made it in a way to serve for their purpose. We had loads of fun creating those as we spoke about safety and closeness with families, and what does home mean to them. Some very lovely boxes have been produced, take a look below!
Journaling

– 11th August 2021
This week, we were joined by guest artist Dawn Campion, who helped us to think about the theme of Safety at Home from a different angle.  Taking a break from working with clay, we spent the class creating our own Mindfulness Journal that can be used at home for a variety of reasons: as a diary; to express negative emotions; to do security checklists; to write down achievements; to record daily tasks; or for gratitude.  Each participants designed their own cover for the journal and used fine liners, fonts and fabric to make it their own.  A small but significant tool for feeling better at home!
Clay Keepsake Boxes – 4th August 2021
In this session we made clay keepsake boxes for our special items, but alternatively, I suggested that it could be used to store our thoughts and feelings. They could write down their negative thoughts / feelings, fold it up and lock it away in their box so not to keep thinking about it, take it away from their mind.
We first rolled out the clay, measured and cut the base and the sides of the box. I then gave a demonstration on how to properly secure and join up the clay sides using the score and slip method. (slip is a liquid clay used in pottery like a glue).  After the walls were completed, some of the participants created lids and decorated their boxes with tools available. These pottery boxes will be left to dry then fired in the kiln ready for glazing.

Origami Flowers – 28th July 2021
In this weeks session we concentrated on creating some beautiful origami flowers. The participants had an option of giving these to a person who made them feel special, loved, safe etc, whether that was a family member, friend or someone in the community. Or they could keep the flowers to brighten up their own home.
We firstly measured out on coloured paper the squares we needed to use and we cut these to shape. Next, the paper folding then began, each complete flower required 5 petals and it was the same folds to create each one. Once all 5 petals were made, we then stuck these together and this created the flower shape. There was a lot of gluing and paperclips involved, but all the participants created really beautiful origami flowers. Each one had different colours, were unique and it was great to see each person having a go.
Celebrating the people who make us feel at home – 21st July 2021
This week we were looking at the people who make us feel safe such as family and friends. I asked the participants to bring in hand prints of these people and asked them to draw around their hands, this was the first stage of creating hand bowls.
We cut around the hands to form templates, these were then placed onto rolled out slabs of clay and cut around to form their hand shapes. Next we placed one hand into a bowl, scored and slipped, then placed the other hand on top and pressed down firmly so they would bond. We arranged the hands so that they created a curved form and it looks as though one hand is holding the other. If the participants wanted they also decorated their hand bowls. We had a really fun and creative session and they all made some fantastic work. – Kathryn!
Items that make you feel at home – 14th July 2021 
It was my first week with this lovely group and they all seem to have a great bond with each other. In this session we were looking at and discussed items that made us feel safe and reminded us of home. I brought in a few examples of my items including pictures of my family and a wooden elephant. The participants also brought in their items and we discussed what they meant to us and how they made us feel and why they reminded us of home.
I wanted the participants to be able to put these objects together as a collection, so we made pottery tiles with these images on. Firstly, I asked the group to quickly sketch their items to show what their clay tiles would look like.  Then the participants rolled out their clay slabs, cut to the right dimensions and added clay to create relief tiles depicting their special items. We had images such as pets, animals, flowers etc all with meanings behind them. They did an amazing job and some lovely work was created.
These will then be put together once finished, glazed and fired. – Kathryn!
Un-Aware Block 3 – Clay and Pottery 
We have successfully finished the wonderful photography sessions with Ray, where everyone got a change to reflect on their topics and work produced through their experiences with the world. We are now starting a new block with artist Kathryn Borg! Kathryn is experienced in clay and pottery, throwing and ceramics which will be all new for our participants! The new sessions will involve clay sculpting and using different tools to make marks and patterns onto it. Everyone seems to be looking forward to it !
Showcase and Guest Speaker – 7th July 2021
Today was our final session and for this we put everyone's work into a PowerPoint gallery and showed it to our guest PC Bray from Derbyshire Constabulary. PC Bray who looks at hate crime was impressed with the high standard of work from the participants and the issues covered and the supportiveness and openness of everyone to help and motivate each other.
The session was an incredible end to what has been a thoroughly enjoyable set of workshops around photography, and it was really interesting to see the varied and thought-provoking work provided by everyone. We are now exploring ways of displaying everyone's work in a virtual gallery as a final tribute to all the time and enthusiastic hard work and effort put in by everyone and some of the participants are looking at setting up their own photography Instagram pages.
The Place Where I Live – 30th June 2021
Today was the penultimate session of our workshops before putting them into a presentation for showing our guest next Wednesday.
Today the budding photographers bought in eight images, and we looked at editing them down and choosing four from the eight to show next week. The hardest part of any project is choosing what to keep in and what to leave behind and today was no different. The standard of work and effort put in made doing this even more difficult, but we eventually got there although it was sad to see some beautiful images left out.
The group in the six weeks have really taken on board what has been discussed and enthusiastically carried out the little challenges set them each week, and this has come through in their work.
It has been a really fab piece of work to do, and I can't wait to show our guest next week from Derbyshire Constabulary the work produced. It is going to be sad to see it all come to an end.
The Place Where I Live – 23rd June 2021
The fifth session today brings us nearer the end date, and it is a piece of work that you just do not want to finish. The standard of work being produced is impressive, considered and evoking and opening some deep conversations about the pieces being shown.
This week the attendees brought more of their own work in based on the community they most identify with and how they feel they fit into that community. It was interesting how people from the city and rural areas felt they fitted in to their communities, and the comparisons being made. There were discussions around isolation, loneliness, and integration into communities and how this affected people.
We then looked at composition in our photography and at the Golden Ratio and the Rule of Thirds and how using these can alter the way our eyes are drawn in a piece of work. We also looked at the cropping and layout of the image.
Next week we are bringing what we have learned into a file of 8 photographs, 4 images that we have already taken, and four new ones based on the tools we have looked at to date.
-Ray!
Exploring Your Style – 16th June 2021
In the fourth session today, we looked at the use of symbolism in art and photography. We began by looking at the work the participants had bought in from last week that they had done themselves. There were some wonderful images, and it was obvious from the work shown that people are starting to explore composition, lighting, perspective, and subject matter and whether to have their images black and white or in colour.
We then looked at symbolism and discussed Animals, flowers, trees, birds, colour, objects, placement, and repetition and how these have all been used throughout the history of creating art to convey a concept and give their work meaning. It has been really great how the group over the weeks are taking on board what is being discussed and bringing in their own thoughts and ideas to the sessions and it is getting really exciting each week waiting to see what everyone is bringing in.
The attendees are to bring in more of their own work for next week based on their community they identify with and how they fit into that community.
-Ray
Using Different Styles of Photography  – 9th June 2021
Today was the third workshop of the seven sessions that Artcore are running around awareness and using photography or film as a means of expressing one's feelings and emotions.
In today's session we looked at the photographs and films the attendees bought in and discussed them as a group in some detail. We looked at how the attendees had chosen their subject matter in relation to the brief and how people told their stories in different styles. The standard of work was really great and interesting. It was great for everyone to see how each other worked and I am looking forward to seeing how they further develop their work.
We then looked at the different styles of photography and how we might choose what style to work in and why we might choose this in preference to another. We looked at the choice of colour over black and white and vice versa and the reasons behind these choices. We looked at the use of props and using models and self-portraits.
The attendees are to bring in more of their own work for next week based on the discussion today for us to discuss.
-Ray!
Showing Time, Place & Emotion Through Photography – 2nd June 2021
Today was the second workshop of the seven sessions that Artcore is running around awareness and using photography or film as a means of expressing one's feelings and emotions.  In the session we looked at time, place and expressing emotion through photography and how other photographers might do this. We started by looking at seven leading photographers, past and present, and their work.
For each photographer, we looked at three pieces of their work in some detail and explored, through group discussion, how they had used black and white and colour to change the moods of the photograph, the varying subject matter, and settings to portray and convey their ideas and feelings to the viewer.  We then looked at a number of images brought in by the participants of the group and what these images meant to them.  Moving on from this, we discussed bringing in next week a short one- or two-minute film or one or two photographs they might take or find over the week that tells us something about them.
We finished by briefly talking about the types of equipment they might use, props, setting, lighting and the style they might use.
-Ray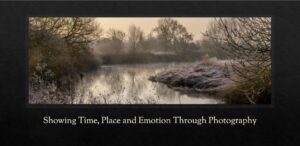 Brand New Un-Aware Classes with Ray Gumbley – 26th May 2021
Today was the first session of six of the seven sessions. We are running around awareness and looking at photography and film as a method of expressing one's feelings and emotions. At our seventh meeting we will be having a guest.  Today we spent the time getting to know each other and the different artforms the attendees have worked in or have as a hobby. We discussed a little about crime, and touched briefly on social isolation, loneliness, discrimination, and motivation.  We discussed the impact covid had had on our lives how we might look and express this through photography or film.
We have gone away today to find a photograph that expresses an emotion or feeling that connects with us as the viewer.
Next week's session will be around photography and film and how photography and film are used to express emotions and thoughts about the self and our surroundings.
-Ray!
Un-Aware Block 2 – Film and Photography 
Our next Block of Un-Aware will be presented and led by a fine art and portraiture photographer Ray Gumbley. Ray is a fantastic photographer, capturing themes of surrealist portraiture, landscape and still life with a touch of gothic grace. This block will be all about film and photography topics looking at what captures our eye, what each individual enjoys in film and photography. We will be using these techniques to represent what life after the pandemic is now versus few months ago and how we changed through this. Ray will guide everyone on how to get the best shot with devices that are available to us. It will be a great opportunity to express creativity in a different way and learn new skills and artistic abilities.
Un-Aware's Last Session for Block 1 – 19th May 2021
Today's session was all about getting our coats ready and finished up, final touches with sewing all the creative pieces on. It was fantastic seeing everyone's work in person and all the wonderful craft they've been creating throughout the past sessions. The variety of work produced is absolutely incredible from painting to felt needling to sewing.
Participants had a chance to show and tell everyone about their work in detail and explain what each part meant for them. This block was very important to each individual and had a positive impact on everyone. It was a journey of reflection about the negatives that turned into positivity and allowed participants to truly express themselves through art and creativity in their own way.
We will be planning an exhibition to showcase all the hard work and raise awareness about discrimination and crime prevention. Overall the block was a great achievement and we are looking forward to starting Block 2 with Ray Gumbley next week.
Un-Aware's First Onsite Session at Artcore – 12th May 2021
We were over the moon to welcome our Un-Aware participants to Artcore for our first session onsite as part of the project.  It was absolutely fantastic to meet some of them in person while still connecting with others via Zoom which meant that those who started the project could continue to work with us although they weren't able to physically get there!  Dawn, our artist and session leader, kept us laughing and chatting all the way through the 90 minutes and brought her completed coat with her to show us – you can see Dawn's cat-walk ready modelling below 🙂
Being in person meant  that we could see the work of the participants more clearly and it was evident that a lot of time, effort and thought has gone into creating each individual piece to symbolise their own journey.  Participants have been needle-felting, embroidering, sewing, painting, writing and creating vision boards with their upcycled textiles and we cannot wait to see their final pieces next week!
Meeting Guest Speaker Imti Choonara – 5th May 2021
As the group have been looking at the topic of discrimination over the last month, we invited Imti Choonara to come chat with the Un-Aware participants about the theme.  Imti is a retired paediatrician who recognises the devastating impact of armed conflict on children (and adults).  He is also an activist – member of Amnesty, Campaign for Nuclear Disarmament, Campaign against the Arms Trade , Green Party and numerous other organisations against racism and protecting the environment.  Imti is also hugely involved in Derby Peace Week which takes place in September.  It was extremely insightful having him there and he encouraged a good conversation, answered lots of questions and shared his experience.
We all agreed on the importance of having difficult conversations and that if people work together, we can make the world a better place for all.  Thank you to Imti, Dawn and our participants for such a powerful session and we look forward to inviting Imti back to try his hand at some crafting 🙂
Reflections on April 2021
Throughout April we had great sessions, filled with expressive and meaningful works of art that participants have created. Every piece is truly personal and made with love and care. Our Artist Dawn Campion is great at introducing every topic of the session and leading everyone through the subject and taking time to connect with each person attending, understanding what their piece is about and the meaning behind it.
Dawn is a professional artist that uses recycling textiles and materials to create wonderful art that's brought back to life. Her most popular creations are the fluffy teddy bears. The idea of this project is to use whatever is at hand whether it be old t-shirts, pieces of fabric, textured paper or cards and   turn it into a personal journey.
Each session had a specific goal to work for, we focused on our inner selves and how we can express our achievements, who we are and what hardships each of us is going through. Every participant has a coat which symbolises what people see of us on the outside of the coat, and who we really are on the inside. Participants have looked at discrimination they have faced and how it affected them, as well as looking into who they are on the inside. It is great to see the variety of work produced, and the acceptance & understanding that everyone had for each other.
"It has greatly helped everyone, being able to share and talk about it with likeminded people and an artist who specialises in this type of area of work. At the end of this block it will be great to see the final result and the power that each of the coat will symbolise. The exhibition will bring light and representation onto this topic of discrimination and kindness towards each other."
Block 1 – Saying No To Discrimination (April-May 2021)
The main project started in the beginning of April and is funded by Derbyshire Police and Crime Commissioner's Vulnerability Fund. We set out the activities with professional artist Dawn Campion, who is an upcycling artist. She uses textiles and materials she can find at home whether it be an old t-shirt or a piece of lace fabric and transforms them into beautiful and usable pieces of art.
The first Block is about saying No to discrimination that an individual might face in the world and feeling proud of the things that make us who we are. The focus is on our inner selves and how we can express that through art by using textiles and painting. Our participants have made a variety of pieces ranging from embroidery to decoration. In the run up to the end of the Block, there will be a showcase of all the creations together.
If you would like to sign up, there are places available through the link here which takes you to a form that needs to be filled out: http://bit.ly/Un-Aware2021
Un-Aware Tasters – March 2021
Artcore has launched a brand new project this year that is focusing on empowering ourselves and others in our communities to feel safe and supported. We had excellent taster sessions in March which included upcycling, chair yoga with Fiona Adamson, mindfulness with Pam Sidhu, and sketching session with artist Sarah Perkins. Below you can see the wonderful artworks that were made during the sketching session which was loads of fun. All these meetings were fantastic with connecting and engaging our participants in art through exploring their feelings and personal experiences with difficulties in lockdown. This project is made for adults of all ages and abilities, and it is suitable for any skill level. We want it to be accessible to everyone with easy to follow activities suited towards your capability.