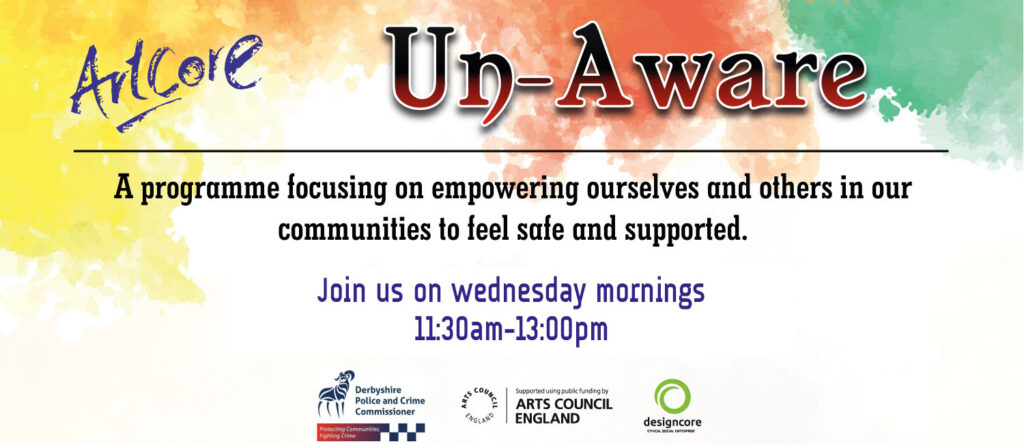 Artcore is starting a new project funded by the Derbyshire Police and Crime Commissioner which will involve working with adult groups in the community.  Through a social and artistic programme, we aim to provide people with the tools to help keep them safe from crime and to provide avenues for support if they have been victim to crimes in the past.
Un-Aware is an empowering project which hopes to boost the confidence of the participants and provide them with new experiences and chances to further their social networks.  Throughout the project, we hope to offer participants with opportunities to volunteer at Artcore, join coffee mornings or other social events.  Increased confidence, self-esteem and positive experiences for adult participants.
So far we had taster sessions of upcycling, chair yoga, mindfulness and sketching running each Wednesday in March. This will give an idea of some of the different activities coming up in the project.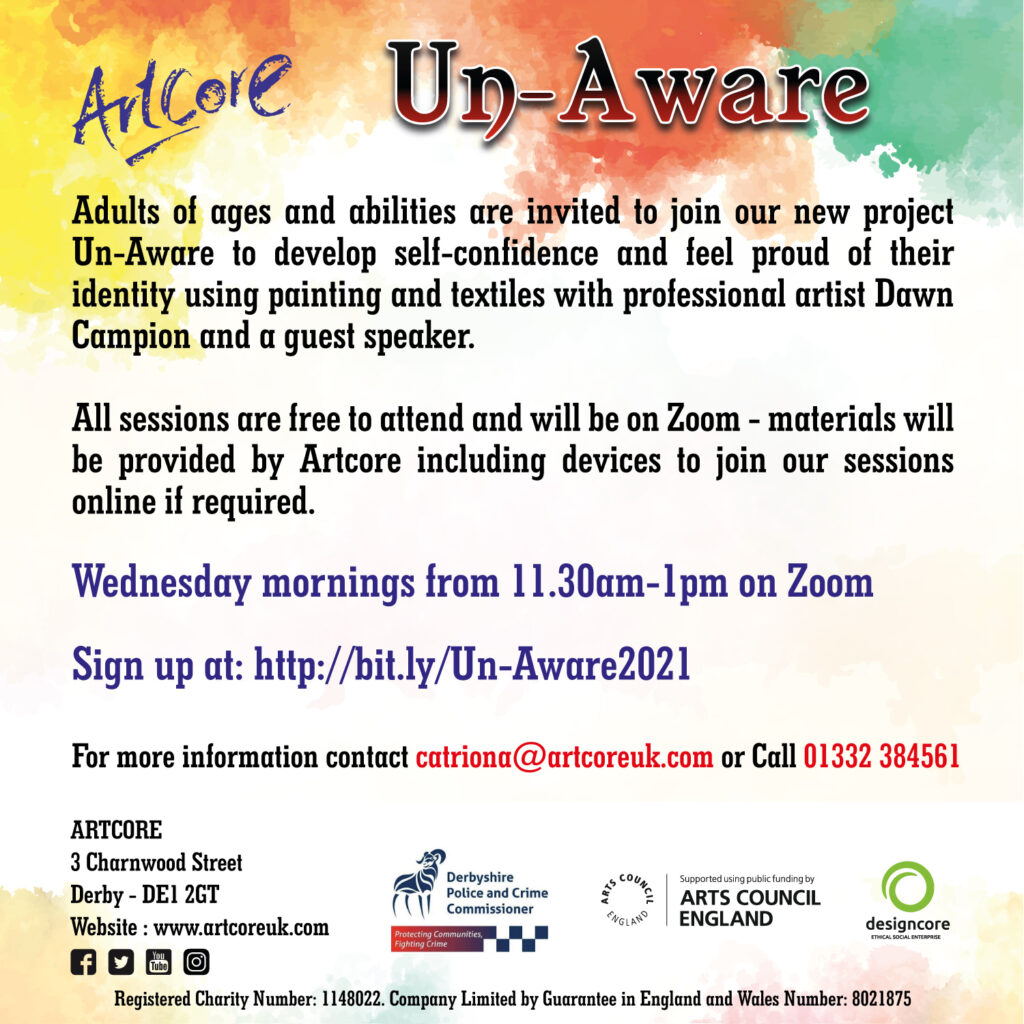 PROJECT UPDATE
(29/04/21) Throughout April we had great sessions, filled with expressive and meaningful works of art that participants have created. Every piece is truly personal and made with love and care. Our Artist Dawn Campion is great at introducing every topic of the session and leading everyone through the subject and taking time to connect with each person attending, understanding what their piece is about and the meaning behind it.
Dawn is a professional artist that uses recycling textiles and materials to create wonderful art that's brought back to life. Her most popular creations are the fluffy teddy bears. The idea of this project is to use whatever is at hand whether it be old t-shirts, pieces of fabric, textured paper or cards and   turn it into a personal journey.
Each session had a specific goal to work for, we focused on our inner selves and how we can express our achievements, who we are and what hardships each of us is going through. Every participant has a coat which symbolises what people see of us on the outside of the coat, and who we really are on the inside. Participants have looked at discrimination they have faced and how it affected them, as well as looking into who they are on the inside. It is great to see the variety of work produced, and the acceptance & understanding that everyone had for each other.
"It has greatly helped everyone, being able to share and talk about it with likeminded people and an artist who specialises in this type of area of work. At the end of this block it will be great to see the final result and the power that each of the coat will symbolise. The exhibition will bring light and representation onto this topic of discrimination and kindness towards each other."
Un-Aware March-April
(15/03/21) Artcore has launched a brand new project this year that is focusing on empowering ourselves and others in our communities to feel safe and supported. We had excellent taster sessions in March which included upcycling, chair yoga with Fiona Adamson, mindfulness with Pam Sidhu, and sketching session with artist Sarah Perkins. Below you can see the wonderful artworks that were made during the sketching session which was loads of fun. All these meetings were fantastic with connecting and engaging our participants in art through exploring their feelings and personal experiences with difficulties in lockdown. This project is made for adults of all ages and abilities, and it is suitable for any skill level. We want it to be accessible to everyone with easy to follow activities suited towards your capability.
Block 1 – Saying No To Discrimination 
The main project started in the beginning of April and is funded by Derbyshire Police and Crime Commissioner's Vulnerability Fund. We set out the activities with professional artist Dawn Campion, who is an upcycling artist. She uses textiles and materials she can find at home whether it be an old t-shirt or a piece of lace fabric and transforms them into beautiful and usable pieces of art.
The first Block is about saying No to discrimination that an individual might face in the world and feeling proud of the things that make us who we are. The focus is on our inner selves and how we can express that through art by using textiles and painting. Our participants have made a variety of pieces ranging from embroidery to decoration. In the run up to the end of the Block, there will be a showcase of all the creations together.
If you would like to sign up, there are places available through the link here which takes you to a form that needs to be filled out: http://bit.ly/Un-Aware2021