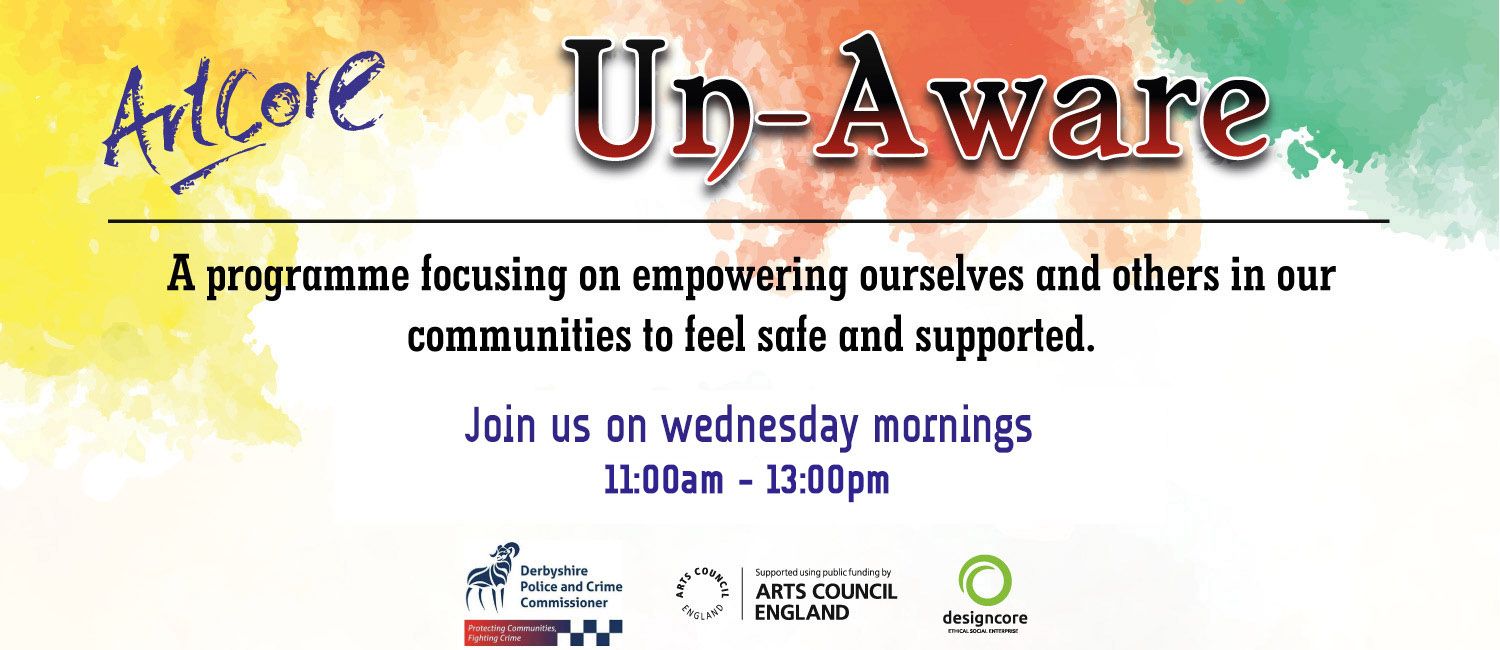 Artcore is starting a new project funded by the Derbyshire Police and Crime Commissioner which will involve working with adult groups in the community.  Through a social and artistic programme, we aim to provide people with the tools to help keep them safe from crime and to provide avenues for support if they have been victim to crimes in the past.
Un-Aware is an empowering project which hopes to boost the confidence of the participants and provide them with new experiences and chances to further their social networks.  Throughout the project, we hope to offer participants with opportunities to volunteer at Artcore, join coffee mornings or other social events.  Increased confidence, self-esteem and positive experiences for adult participants.
Wednesdays from 11.00am-1pm on Artcore site at 3 Charnwood St, DE1 2GT, Derby
Sign up at http://bit.ly/Un-Aware2021
PROJECT UPDATE
The Place Where I Live – 23rd June 2021
The fifth session today brings us nearer the end date, and it is a piece of work that you just do not want to finish. The standard of work being produced is impressive, considered and evoking and opening some deep conversations about the pieces being shown.
This week the attendees brought more of their own work in based on the community they most identify with and how they feel they fit into that community. It was interesting how people from the city and rural areas felt they fitted in to their communities, and the comparisons being made. There were discussions around isolation, loneliness, and integration into communities and how this affected people.
We then looked at composition in our photography and at the Golden Ratio and the Rule of Thirds and how using these can alter the way our eyes are drawn in a piece of work. We also looked at the cropping and layout of the image.
Next week we are bringing what we have learned into a file of 8 photographs, 4 images that we have already taken, and four new ones based on the tools we have looked at to date.
-Ray!
Exploring Your Style – 16th June 2021
In the fourth session today, we looked at the use of symbolism in art and photography. We began by looking at the work the participants had bought in from last week that they had done themselves. There were some wonderful images, and it was obvious from the work shown that people are starting to explore composition, lighting, perspective, and subject matter and whether to have their images black and white or in colour.
We then looked at symbolism and discussed Animals, flowers, trees, birds, colour, objects, placement, and repetition and how these have all been used throughout the history of creating art to convey a concept and give their work meaning. It has been really great how the group over the weeks are taking on board what is being discussed and bringing in their own thoughts and ideas to the sessions and it is getting really exciting each week waiting to see what everyone is bringing in.
The attendees are to bring in more of their own work for next week based on their community they identify with and how they fit into that community.
-Ray
Using Different Styles of Photography  – 9th June 2021
Today was the third workshop of the seven sessions that Artcore are running around awareness and using photography or film as a means of expressing one's feelings and emotions.
In today's session we looked at the photographs and films the attendees bought in and discussed them as a group in some detail. We looked at how the attendees had chosen their subject matter in relation to the brief and how people told their stories in different styles. The standard of work was really great and interesting. It was great for everyone to see how each other worked and I am looking forward to seeing how they further develop their work.
We then looked at the different styles of photography and how we might choose what style to work in and why we might choose this in preference to another. We looked at the choice of colour over black and white and vice versa and the reasons behind these choices. We looked at the use of props and using models and self-portraits.
The attendees are to bring in more of their own work for next week based on the discussion today for us to discuss.
-Ray!
Showing Time, Place & Emotion Through Photography – 2nd June 2021
Today was the second workshop of the seven sessions that Artcore is running around awareness and using photography or film as a means of expressing one's feelings and emotions.  In the session we looked at time, place and expressing emotion through photography and how other photographers might do this. We started by looking at seven leading photographers, past and present, and their work.
For each photographer, we looked at three pieces of their work in some detail and explored, through group discussion, how they had used black and white and colour to change the moods of the photograph, the varying subject matter, and settings to portray and convey their ideas and feelings to the viewer.  We then looked at a number of images brought in by the participants of the group and what these images meant to them.  Moving on from this, we discussed bringing in next week a short one- or two-minute film or one or two photographs they might take or find over the week that tells us something about them.
We finished by briefly talking about the types of equipment they might use, props, setting, lighting and the style they might use.
-Ray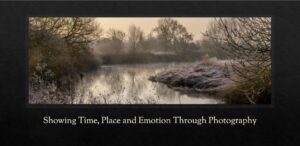 Brand New Un-Aware Classes with Ray Gumbley – 26th May 2021
Today was the first session of six of the seven sessions. We are running around awareness and looking at photography and film as a method of expressing one's feelings and emotions. At our seventh meeting we will be having a guest.  Today we spent the time getting to know each other and the different artforms the attendees have worked in or have as a hobby. We discussed a little about crime, and touched briefly on social isolation, loneliness, discrimination, and motivation.  We discussed the impact covid had had on our lives how we might look and express this through photography or film.
We have gone away today to find a photograph that expresses an emotion or feeling that connects with us as the viewer.
Next week's session will be around photography and film and how photography and film are used to express emotions and thoughts about the self and our surroundings.
-Ray!
Un-Aware Block 2 – Film and Photography 
Our next Block of Un-Aware will be presented and led by a fine art and portraiture photographer Ray Gumbley. Ray is a fantastic photographer, capturing themes of surrealist portraiture, landscape and still life with a touch of gothic grace. This block will be all about film and photography topics looking at what captures our eye, what each individual enjoys in film and photography. We will be using these techniques to represent what life after the pandemic is now versus few months ago and how we changed through this. Ray will guide everyone on how to get the best shot with devices that are available to us. It will be a great opportunity to express creativity in a different way and learn new skills and artistic abilities.
Un-Aware's Last Session for Block 1 – 19th May 2021
Today's session was all about getting our coats ready and finished up, final touches with sewing all the creative pieces on. It was fantastic seeing everyone's work in person and all the wonderful craft they've been creating throughout the past sessions. The variety of work produced is absolutely incredible from painting to felt needling to sewing.
Participants had a chance to show and tell everyone about their work in detail and explain what each part meant for them. This block was very important to each individual and had a positive impact on everyone. It was a journey of reflection about the negatives that turned into positivity and allowed participants to truly express themselves through art and creativity in their own way.
We will be planning an exhibition to showcase all the hard work and raise awareness about discrimination and crime prevention. Overall the block was a great achievement and we are looking forward to starting Block 2 with Ray Gumbley next week.
Un-Aware's First Onsite Session at Artcore – 12th May 2021
We were over the moon to welcome our Un-Aware participants to Artcore for our first session onsite as part of the project.  It was absolutely fantastic to meet some of them in person while still connecting with others via Zoom which meant that those who started the project could continue to work with us although they weren't able to physically get there!  Dawn, our artist and session leader, kept us laughing and chatting all the way through the 90 minutes and brought her completed coat with her to show us – you can see Dawn's cat-walk ready modelling below 🙂
Being in person meant  that we could see the work of the participants more clearly and it was evident that a lot of time, effort and thought has gone into creating each individual piece to symbolise their own journey.  Participants have been needle-felting, embroidering, sewing, painting, writing and creating vision boards with their upcycled textiles and we cannot wait to see their final pieces next week!
Meeting Guest Speaker Imti Choonara – 5th May 2021
As the group have been looking at the topic of discrimination over the last month, we invited Imti Choonara to come chat with the Un-Aware participants about the theme.  Imti is a retired paediatrician who recognises the devastating impact of armed conflict on children (and adults).  He is also an activist – member of Amnesty, Campaign for Nuclear Disarmament, Campaign against the Arms Trade , Green Party and numerous other organisations against racism and protecting the environment.  Imti is also hugely involved in Derby Peace Week which takes place in September.  It was extremely insightful having him there and he encouraged a good conversation, answered lots of questions and shared his experience.
We all agreed on the importance of having difficult conversations and that if people work together, we can make the world a better place for all.  Thank you to Imti, Dawn and our participants for such a powerful session and we look forward to inviting Imti back to try his hand at some crafting 🙂
Reflections on April 2021
Throughout April we had great sessions, filled with expressive and meaningful works of art that participants have created. Every piece is truly personal and made with love and care. Our Artist Dawn Campion is great at introducing every topic of the session and leading everyone through the subject and taking time to connect with each person attending, understanding what their piece is about and the meaning behind it.
Dawn is a professional artist that uses recycling textiles and materials to create wonderful art that's brought back to life. Her most popular creations are the fluffy teddy bears. The idea of this project is to use whatever is at hand whether it be old t-shirts, pieces of fabric, textured paper or cards and   turn it into a personal journey.
Each session had a specific goal to work for, we focused on our inner selves and how we can express our achievements, who we are and what hardships each of us is going through. Every participant has a coat which symbolises what people see of us on the outside of the coat, and who we really are on the inside. Participants have looked at discrimination they have faced and how it affected them, as well as looking into who they are on the inside. It is great to see the variety of work produced, and the acceptance & understanding that everyone had for each other.
"It has greatly helped everyone, being able to share and talk about it with likeminded people and an artist who specialises in this type of area of work. At the end of this block it will be great to see the final result and the power that each of the coat will symbolise. The exhibition will bring light and representation onto this topic of discrimination and kindness towards each other."
Block 1 – Saying No To Discrimination (April-May 2021)
The main project started in the beginning of April and is funded by Derbyshire Police and Crime Commissioner's Vulnerability Fund. We set out the activities with professional artist Dawn Campion, who is an upcycling artist. She uses textiles and materials she can find at home whether it be an old t-shirt or a piece of lace fabric and transforms them into beautiful and usable pieces of art.
The first Block is about saying No to discrimination that an individual might face in the world and feeling proud of the things that make us who we are. The focus is on our inner selves and how we can express that through art by using textiles and painting. Our participants have made a variety of pieces ranging from embroidery to decoration. In the run up to the end of the Block, there will be a showcase of all the creations together.
If you would like to sign up, there are places available through the link here which takes you to a form that needs to be filled out: http://bit.ly/Un-Aware2021
Un-Aware Tasters – March 2021
Artcore has launched a brand new project this year that is focusing on empowering ourselves and others in our communities to feel safe and supported. We had excellent taster sessions in March which included upcycling, chair yoga with Fiona Adamson, mindfulness with Pam Sidhu, and sketching session with artist Sarah Perkins. Below you can see the wonderful artworks that were made during the sketching session which was loads of fun. All these meetings were fantastic with connecting and engaging our participants in art through exploring their feelings and personal experiences with difficulties in lockdown. This project is made for adults of all ages and abilities, and it is suitable for any skill level. We want it to be accessible to everyone with easy to follow activities suited towards your capability.