Spotlight On Reimagine – This is Derby
WELCOME TO OUR REIMAGINE SPOTLIGHT
This is Derby – Reimagine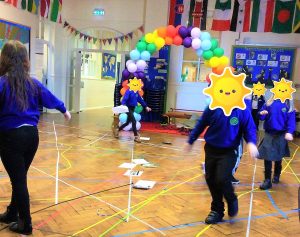 Derby is a brilliant city, but not one without its challenges. We have a strong sense of our rich culture – a city in the heart of the UK, connected globally but still small enough that people feel connected. However, some families and young people are being left behind. They tend to be families from areas of our city that are higher in deprivation, where people may not get the chance to benefit from all we have to offer.
It is well proven, that culture and the arts can be the spark that ignites a young person's confidence and excitement for life. In Derby, our arts and sports organisations have joined forces to create an award-winning consortium that supports those young people that really need it. The University of Derby, supporting the This is Derby consortium, won the Guardian University Award 2020 for Social and Community Impact. Originally funded as part of the city's Opportunity Area programme, This is Derby continues now as a thriving collaboration of organisations, who work together to create amazing work with young people in our city. One of those projects is a £1million called Reimagine.
Reimagine is an ambitious, strategically connected, performance programme generated by young people in areas of lowest cultural engagement. Derby's performing arts organisations will collaboratively support young people in 5 'hubs' through progressive encounters with inspirational work, artists and settings. As new skills are nurtured, families will be engaged, teachers will gain new knowledge and the young will uncover routes to creative careers. They will produce their own work, reimagining everyday spaces and authoring the story of their lives in innovative and extraordinary performances.
The 5 Hubs are: Abbey, Chaddesden/Derwent, Normanton/Arboretum, Sinfin, Virtual Hub working with all the Special Educational Needs and Disabilities
WHO ARE WE?
Artcore
Artcore is a contemporary arts space that celebrates the cultural richness and diversity of Derby, the East Midlands and beyond. The venue presents an ever-changing programme of art exhibitions, creative activities for adults and young people, film screenings, artist residencies, talks, and festivals. With our statement "together we stand", we want to engage and connect with a diverse range of communities in Derby.  Our key objectives are to use art as a tool to strengthen community cohesion, to engage with a wide range of audiences, to educate, raise awareness and provide a space to build self-confidence and mutual trust and respect.
Catriona Kelly – Project Coordinator, Artcore
Within my role as Project Coordinator at Artcore, and as Reimagine Coordinator for Normanton/Arboretum, I work with participants, partners and professional artists around the city to provide accessible and inclusive opportunities for people to be captivated and inspired by arts and culture.  It is of the utmost importance that all young people, regardless of their background, ability or circumstances are given equal chance to explore the vast array of artistic and performance mediums and that they are encouraged and supported to pursue different pathways into the creative industries.
As part of Reimagine, I am working with young people in the Normanton and Arboretum wards to provide these opportunities and experiences by listening to and learning from what young people need from us.
ARTCORE AND OUR REIMAGINE HUB
Normanton and Arboretum
The Normanton and Arboretum hub is particularly important to Artcore as partners on the Reimagine project as we are located within the boundaries of Arboretum itself and therefore submerged within the community.  Some of our key objectives as an organisation are to use art as a tool to strengthen community cohesion, to educate and to provide a space to build self-confidence, mutual trust and respect which is the driving motivation behind our work with the young people in our hub.
Normanton and Arboretum are two of the most ethnically diverse wards in Derby and within this there is an abundance of languages, cultures and faiths as well as numerous socio-economic barriers.  With our base in Arboretum, one of the most deprived wards in Derby, we are uniquely placed to reach those who do not normally engage with art, for a variety of reasons, particularly BAME, migrants, refugees and disadvantaged communities.  For the young people here, we want to utilise the universal experience of art in order to support, share and celebrate the diversity of the wards through meaningful and sustainable creative connections.
As part of Reimagine, we have been working with three primary schools in our hub, all of which are within walking distance to the Artcore building: Pear Tree Junior School, St. James' Primary School and Zaytouna Primary School.  The young people, while all primary school age, range from 8-11 years old and have been engaging in sessions exploring different art forms.
SO, WHAT HAVE WE BEEN UP TO?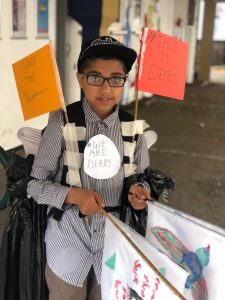 This is Derby #Reimagine took the form of a collaborative SHED project supporting young people to reimagine space and try out a variety of different  art  forms  including  music,  movement, theatre and visual art.  We ran creative sessions as part of the touring SHED project across Firs, Pear Tree, St. Martins, Derwent, Kingsmead and Castle School in Derby.  Our illustrative artist Bob Moulder ran taster sessions for the Treasure Island performance project  in  Abbey  Ward  Bemrose,  Firs  and  Becket,  creating treasure chests and props to which the theme of Celebrating Surroundings was the outcome.
With the arrival of the pandemic last March, Artcore, like all our partners, had to readapt our sessions and move the planned delivery online, focusing instead on masterclasses to spark creativity for young people suddenly stuck at home.  When we began our work with Pear Tree and St. James' and Derby Libraries prior to the pandemic last year, the young people of Years 5 and 6 were creating a back drop to be used in the performance.  Instead, over the course of five weeks, we delivered weekly Family Creatives videos in partnership with Wrongsemble that provided guided workshops on creating a puppet theatre, the actions to go within and techniques on staging a music video with Set Designer Connie Burley.  In addition to this, we filmed mini-masterclasses featuring artists Nicki Dennett and Victoria Brown.
You can check them out here:
"In March 2020, whether we were prepared or not, the world as we knew it changed. The nation went into lockdown due to COVID-19 and businesses and non-essential sectors were forced to close down in lieu of public safety.  As an arts organisation we had a responsibility to our sector and to our community; and responsibility became an ability to respond. Our response was to continue our provision for people and we aimed to deliver, to re-engage, and reimagine art; through Facebook Lives, Zoom, pre-made material packs and any other means necessary to uphold our commitment to engaging young people in the visual arts." – Ruchita Shaikh, Artcore Executive Director
We are currently continuing our work with Pear Tree, Zaytouna and St. James' in various formats to mirror the changes and access allowed by lockdown restrictions.  Working with students in Key Stage 3, we are exploring the themes of Home Girl through visual art, movement and sound in sessions led by Chris Wright and Connie Burley.  In addressing themes such as home, identity and kindness through creative mediums, young people are engaging in conversations with one another and expressing their responses in ways that they may not have experienced in the past.  We will be bringing all of their work together in the form of an online exhibition later in the summer as well as providing a co-created maze experience that the young people will attend at Artcore.  This will also be open for all young people in Normanton and Arboretum to create, connect and collaborate in.
PERSPECTIVE AND PATHWAYS FORWARD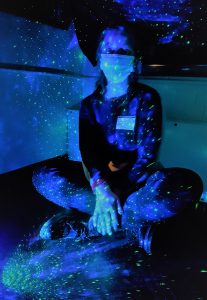 "From coordinating this project for the communities of Normanton and Arboretum, it is evident that supporting young people to connect and engage with arts and performance requires a genuine dedication to enhancing the opportunities for people within our city.  The connections that we have developed thus far have been instrumental in providing the access that young people not only need, but want.  The artists, teachers and school staff are so passionate about their role in this project which makes me even more excited and inspired to develop meaningful relationships within our hub.  The most important thing I've learned though, is that there are some truly remarkable young people in Normanton and Arboretum who have shown that they are eager to participate and explore visual and performance arts and to do this they need creative experiences that both resonate and inspire." – Catriona Kelly, Hub Coordinator 
What do you think this particular project's legacy will be?
We feel the legacy of Reimagine will be a strong and sustainable network of artists, teachers, organisations and creative mentors who are dedicated to providing pathways for young people in Derby to pursue futures in the creative industries. It is clear that there is a lot of passionate and commitment to this already which will only increase as the project continues.  As part of Reimagine, Artcore has already worked closely with numerous schools in Normanton and Arboretum as well as with our partners Derby Theatre, Sinfonia Viva, Deda and Baby People.  We've also had the opportunity to enhance our relationships with organisations such as Wrongsemble and Designcore as well as with photographer Ray Gumbley.
"Initiatives like this really help some of our most vulnerable children and help them to come out of their shells!" – St. James' CoE Primary School
For the young people in Derby, they will have increased confidence to explore and engage with art and performance-making due to the opportunities to co-create their Reimagine projects which will be showcased for their families, friends, schools and communities.  It will also contribute to positive social mobility within the city and provide experiences that may not have been previously accessible to the young people in these areas.  Reimagine is about giving young people a creative voice and agency to share that so a huge intention of the project's legacy is to continue this work for our young people.
OUR YOUNG PEOPLE
Why do you think the arts and culture are so important in the lives of young people?
Arts and culture are fundamental to the wellbeing, character development, educational attainment and development of transferable life skills for everyone.  For young people, access to it must always be prioritised and encouraged in order to give them equal experiences in life and opportunities to express their creative voices.  All young people deserve to have, and should have, arts and culture in their lives.
"The importance of arts and culture to young people is that it provides a space for imagination.  It extends and develops what is already known and shows a world that is outside their own sphere of knowledge. It is a starting point for future development in any field." – Chris Wright, Sound Artist and Reimagine Facilitator
What do you hope the young people have learnt and achieved from being involved?
Through their role in Reimagine so far, we hope that the young people in Normanton and Arboretum have learned how important their creative voice is and that there are people within the city willing to listen to and project them.  The last year has been incredibly challenging for everyone and the work completed by the young people we saw in Pear Tree, Zaytouna and St. James' has been phenomenal.  In short spaces of time under lockdown restrictions, the young people achieved a huge amount and openly experienced various forms of visual art and performance!  We hope that they are proud of everything that they have created so far and in the development of their artistic expression.