Nuff Said! Open Mic Night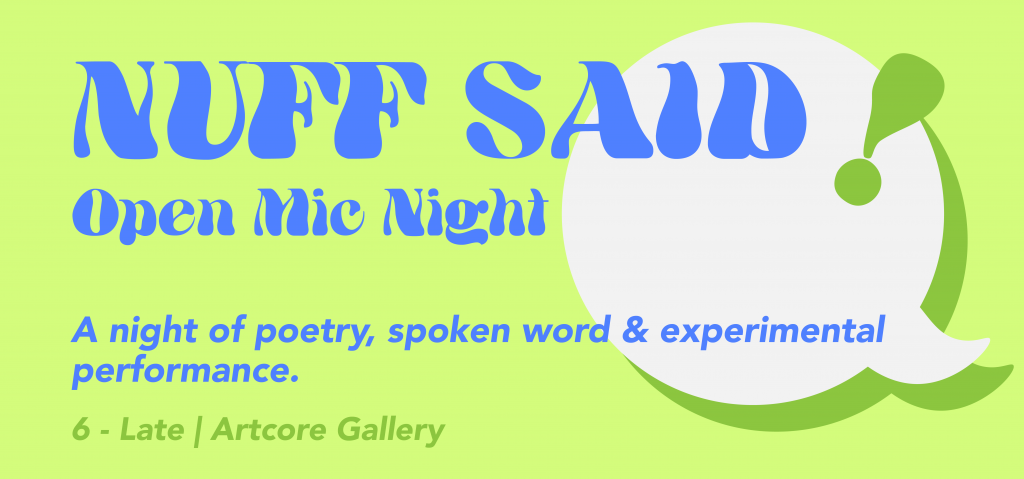 Nuff Said Open Mic Night – We welcome guests and performers! 
We invite you to come along and emerge yourself in a night filled with performance, music, poetry, literature and spoken word arts.  If you want to take over the mic for a night at Artcore Gallery as part of our new season of Friday night 'Art Lates' this is the opportunity for you!
Come along, test out new material, share a well-rehearsed piece or try a new collaboration – what you perform is up to you.
This will be an open mic event with a relaxed atmosphere for everyone to get together, share, hear and discuss poetry and spoken word in all of its forms. We are looking for East Midlands-based poets and performers at any stage of their careers to come along, perform and meet like-minded wordsmiths.
The event will be held at Artcore Gallery and Cafe with refreshments available throughout – expect food, wine and a fun time. Please email melanie@artcoreuk.com if you would like to participate, or if you would like a little more info!
Next Event: Firday 19th November, 6-Late
Venue: Artcore Gallery, 8 Albert St, Osnabruck Square, DE1 2DS 
*Event is free to attend and perform, please book in advance.*