Latest News
In 2016 six artists, living and working in the East Midlands, were selected to take part in Document, a project that set out to tell their story, in their voice. Since then the Contemporary Visual Arts Network East Midlands (CVAN EM) has worked with those artists as they have reflected on their practice and captured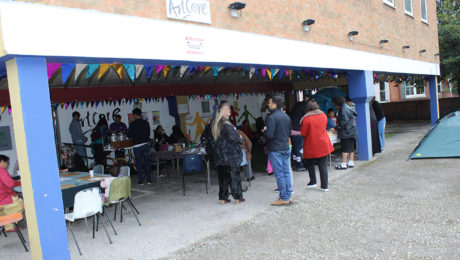 Thursday, 28 September 2017
On Saturday 23rd September we continued our creative programme Chai and the City with a cup of chai and the launch of My Cup of Tea, a heritage project which explores the traditions and customs associated with drinking tea in Britain. My Cup of Tea examines the subject of tea and the part it plays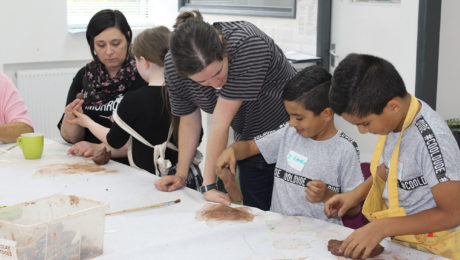 Wednesday, 27 September 2017
In this session, the group were introduced to the idea of creating miniature worlds and using magazines wrapping paper and other materials to create collages exploring our idea. Then, using clay, we began to create some creatures that might populate our imaginary worlds.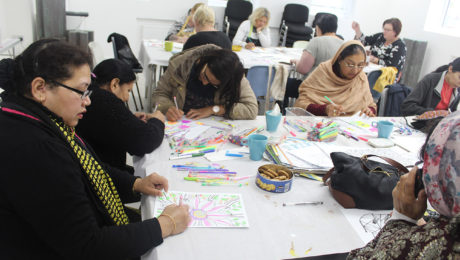 Wednesday, 13 September 2017
Artist Jane Smith was ill, so Gayle led a very relaxed drawing session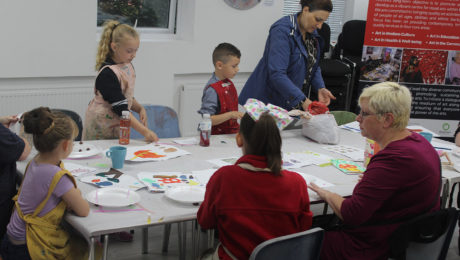 Wednesday, 06 September 2017
In this session we used the medium of plaster. It was great fun for everyone, both the children and the adults enjoyed the process. There was such a wonderful atmosphere within the group. We used drinking straws inside the plaster to create holes for hanging as well as using plates to make the moulds. Almost
Wednesday, 30 August 2017
This session was a very positive workshop. Using pens and paint as the main medium, all the participants learned about illustration as well as how to develop their fairy tale and folklore skills.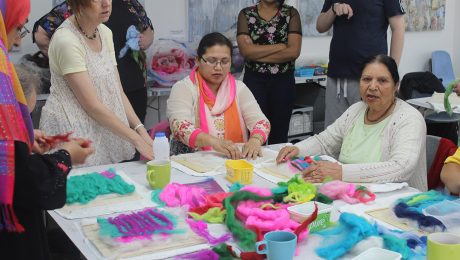 We learned how to make felt using the wet felting method with dyed merino fibres in this session. The participants were fascinated by the process and enjoyed creating pictures with the fibres. Some people embellished their images. Everyones designs were very impressive and the group was really sociable and very friendly towards eachother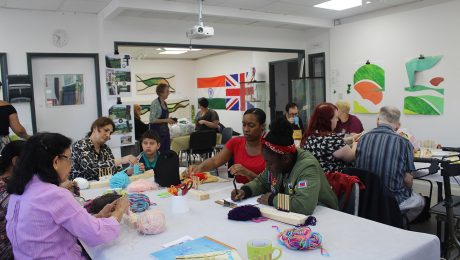 Participants had a choice between trying peg loom weaving or acrylic painting. Most participants chose to try the peg loom weaving, with a few opting for the acrylic painting, particularly if they had mobility problems with their hands. A few arrived later, but participants who had already started, helped to show them how to weave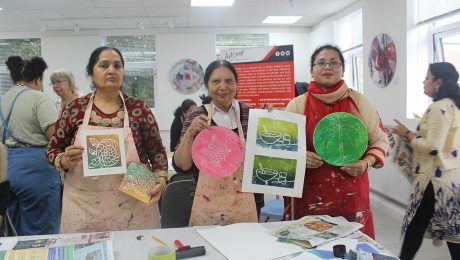 In the session participants made print blocks using quick print polystyrene and then created different coloured prints. These prints were based along the theme of "What makes you unique?" and "What do you like to do?" as inspiration. It was a very busy workshop with people learning how to print using simple materials.
Artcore was proud to launch Chai and the City, an exhibition programme celebrating the reciprocal influences of India and Britain in conjunction with the 70th anniversary of India's Independence. Chai and the City celebrates India's influence on Britain through the popularity of tea drinking, and the rituals and heritage that accompany its production and consumption,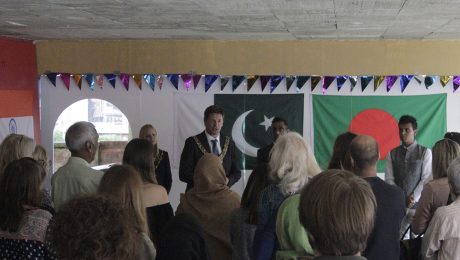 A big thanks to everyone who attended as part of our Sharing Celebrations Project, supported by the Celebrate Fund. Artcore raised a toast of a hot cup of Chai to connect the common threads of cultural heritage between England and India, Pakistan and Bangladesh. We built connections, strengthened trust, and celebrated togetherness. We showed that