January-March 2022 Programme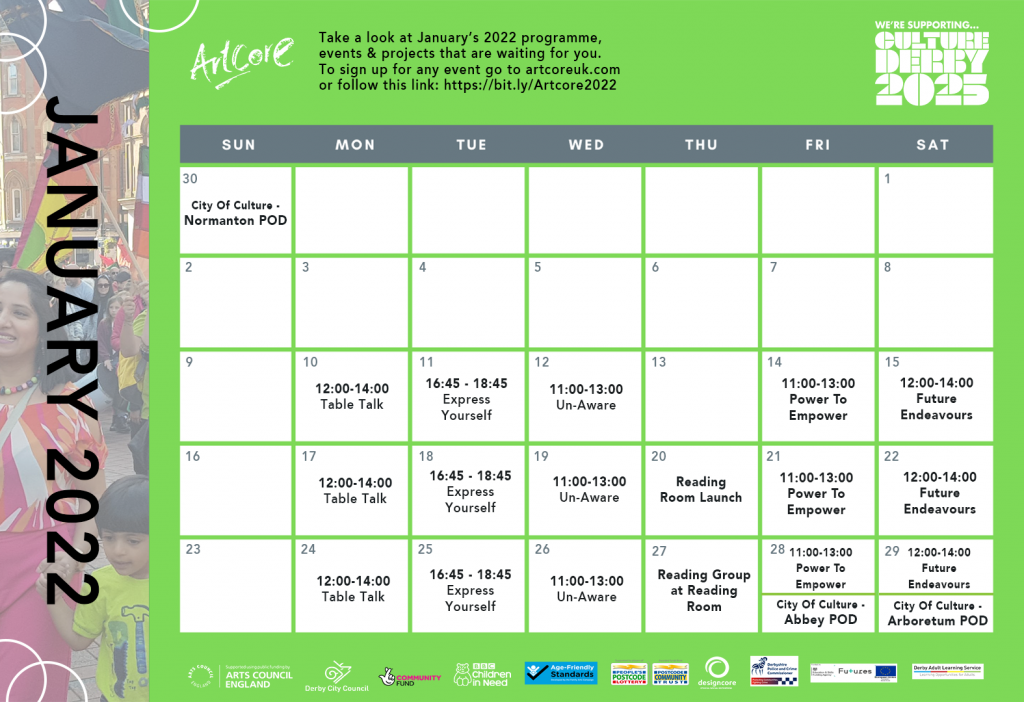 January 2022
Reading Room at the Cabin
Starting from 20th January Artcore is launching a pop-up reading room at the Cabin located in the Osnabruck Square, City Centre in Derby. There will be a great variety of resources ranging from art books, zines, reading material, research books and more for you to explore. Some of the materials will be available to lend or purchase, as well as grab and read in the Cabin free of charge. We are hoping this will be a great inspiration to anyone looking to connect with Artcore and enjoy the space of mutual support. Find out more on: The Reading Room (artcoregallery.org.uk)
YAC Professional Development Programme 
We have an exciting opportunity for artists to join Artcore's Young Professional Development Programme as part of the artist collective, YAC. This opportunity is aimed at artists aged 16-25, and supports development through skill-sharing, artist talks, collaborative making and mentoring. 
Throughout the residency, you will be based in the Cabin located in the Osnabruck Square, City Centre in Derby. During this time, participants will take part in weekly mentoring and group discussions, skill-shares, CV/Portfolio reviews, and an opportunity to present the collaborative project in an exhibition which will open to the public on 11th March 2022.
To find out more and submit an application, visit: Young Artists Collective (artcoregallery.org.uk)
Dove's Project with Artcore 
Derby Cathedral is working with artist Peter Walker Sculptor to exhibit a suspended installation of 8000 white paper doves above the nave of the cathedral.  The installation will be a culmination of work from participating schools, community groups and partners from around Derby which will be on display from 23rd April 2022 until June 2022.
Over the next few months, Artcore will be working with local community organisations to decorate the doves with messages of love, peace and reflection.  If your organisation would like to take part in this project and contribute some decorated doves to be included in the installation, please contact melanie@artcoreuk.com
City Of Culture Events 
As part of City of Culture Bid, we want to spotlight these fantastic events brought by Dr Rhiannon Jones, an artist, researcher & S.H.E.D programme developer from Derby University. These three events will take place over the weekend at the end of January from 28th-30th. Each event is uniquely curated by 3 commissioned artists who are responding to the City Of Culture Bid and creating a set of works displayed in a 'POD' at these locations for you to visit, take part in and feedback about your thoughts and hopes for the bid.
For more information take a look at: News – Culture Derby & Social Media Handles
Artists Workshops 
During the Reading Room period there will be artists workshops & talks taking place over at the Cabin. We will follow up with more information soon, so stay informed on our website and social media platforms.