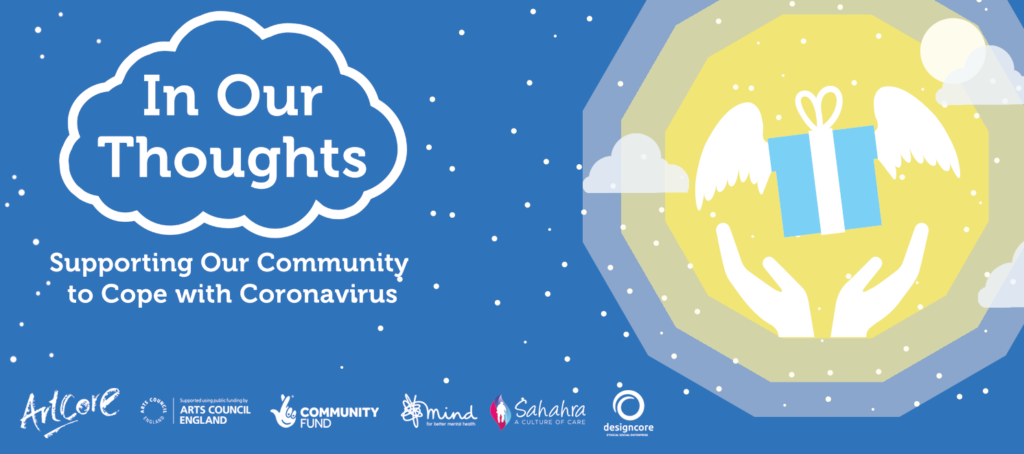 Creatively supporting our communities to cope with loss and bereavement during the Coronavirus.
The global pandemic has had a huge impact on communities in Derby and Derbyshire, In Our Thoughts is a yearlong project supported by the mental health charity MIND. A partnership initiated by Artcore and Sahahra to support our communities to cope with Coronavirus.
Over the year we will be distributing 'In Our Thoughts' Memories packs to people who have experienced loss as a result of the pandemic and encouraging community members to contribute in creating a memorial. Creatively sharing their thoughts and memories of the loved ones they have lost, to form a part of a virtual memorial and culminate into a showcase in 2021.
There will be bi weekly surgeries and activities online and onsite at Charnwood St to encourage and support members with their mental health during these uncertain times.
If you have been bereaved during the Coronavirus pandemic and would like to be supported to make a creative memorial,
sign up here
If you are a community organisation who would like to refer an individual/family to be supported to make a creative memorial,sign up here
(Please get consent from the individual/family before sharing their details with us), sign up here
If you would like to volunteering to support this project, sign up here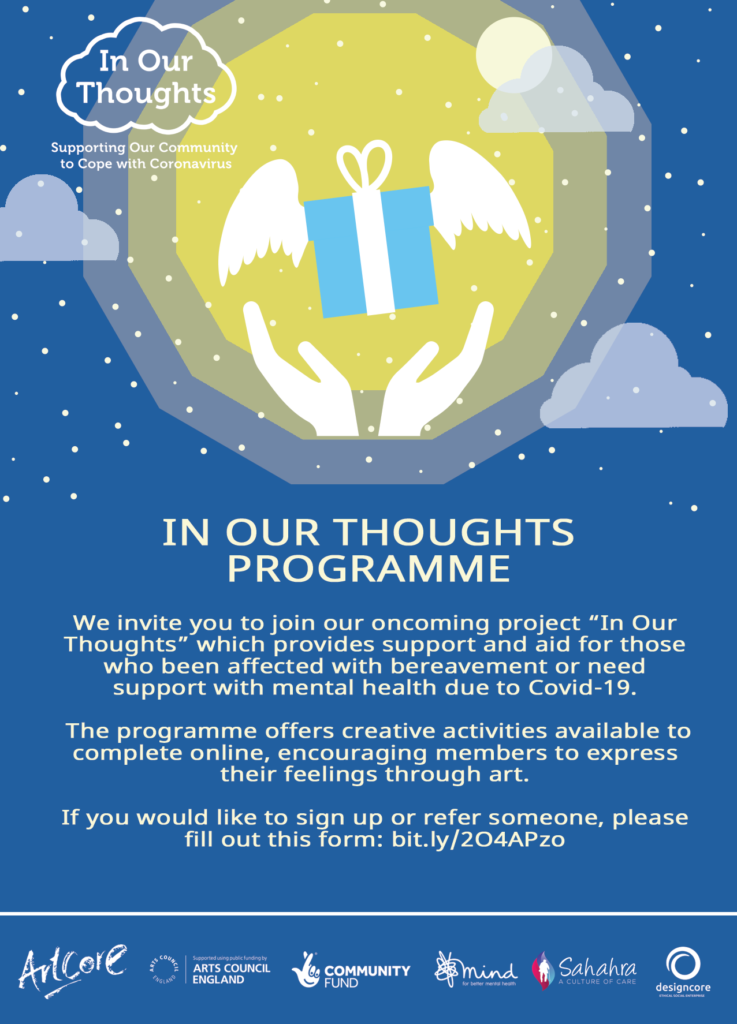 In Our Thoughts is a partnership project between Artcore and Sahahra to support our communities to cope with Coronavirus.
We are distributing In Our Thoughts Memory packs and encouraging community members to contribute in creating a memorial and creatively share their thoughts and memories of the loved ones they have lost as a result of the Pandemic, to form part of a virtual memorial and culminate in a showcase in 2021. There are activities online and onsite to encourage and support members with their mental health during these uncertain times.
Enabling people with experience of mental health problems; service users are involved in leading the work. People with mental health issues have been an integral part of the project. Coronavirus pandemic has impacted the people we are working with, and we have adapted our services in order to meet this changing need.
This project works with local people and people are involved in shaping activities in their neighbourhood and form closer social links.
The impact of COVID19 has been terrible. People have not been able to be with dying relatives in hospital. Funerals, which for communities are community events, have only been attended by a maximum of five people.
We have been offering online and onsite delivery where possible. We are also offering digital tablets to users who are in need and supporting them with online surgeries to access online resources.
If you have been bereaved during the Coronavirus pandemic and would like some support, or are a community organisation and would like to refer someone to be supported please go to the sign up area of this page.
Project Update 
Session at Derby Market Square
03/06/21 – This week we had a lovely session at our hut in Derby Market Square. It was a great opportunity to get the public involved and spread a word around about our project and good causes that it brings. We have cut out leaf shaped card and asked the community to write their thoughts about what the pandemic and lockdown meant for them. Children had also participated and drew on the leaves which was very lovely. One of our volunteers painted a box that the leaves were submitted in. Everyone had much fun creating their own take for the tree through painting, sculpting, and writing.
The tree is now almost finished with the resin base and the top of the tree being beautifully decorated with all the hard work and submissions. We will work on planning an exhibition to showcase the tree at some point during the summer.
Another Productive Memorial-Making at Albert St
27/5/21 – This week, we were back at our Artcore site on Albert Street with our band of dedicated volunteers and artists to continue developing our Memorial Tree and it is really starting to come together.  As this memorial was a collective idea, we are continuously adapting our creations to work with each others visions for the sculpture and responses to the pandemic.  I think that we are all incredibly proud of how we have worked together and what we have created!  – Catriona, Project Coordinator
Albert St Session
20/05/21 Today we had our session over at Albert St Artcore shop where we carried on with our tree sculpture. We have finished the tree bark and started on our branches. We engaged the public and customers to come in and contribute a little piece of their thoughts on a cut out leaves that are going to be attached to the branches. We also sent out a call out flyer to Derby College art students to encourage them into submitting work. Hopefully in the upcoming weeks we can have a start on putting it all together.
Progress On Memorial Sculpture 
13/05/21 Today's session was much of a fun as last time. Participants had started putting together the sculpture, carrying on at our Artcore Charnwood St site. Starting from building the tree trunk and securing it with plaster clay, participants have started adding colour and bringing it to life. Artist Dawn Campion has been planning out the tree branches and sculpting them from thick wire so that the memories and creations can securely be attached. Participants have also added wire bending pieces to describe in words the connotations of the pandemic.
It is a fantastic progress on this project, we can't wait to see the final outcome. Our next session is going to be planned in our shop at Albert St, outside the building to engage the public and hopefully gain more insight from people and encourage them to submit their thoughts or creations to be added into the tree.
Memorial Tree Sculpture
06/05/21 We had a great successful session at our Artcore site building, after a long time of the meetings being online it was great working and connecting with people in person. Of course we kept in mind the social distancing precautions as well as wearing masks and sanitising for safety of everyone.
The project that we are working on will be the outcome of an exhibition towards the end of June, where anyone can participate towards it and show their creativity, thoughts, memories etc to be shared with Derby and Derbyshire people. The idea behind it is a Memorial Sculpture of a tree in which participants can hang their creations on the branches. Today we had a lively session planning out the structure and themes of the sculpture. Artist Dawn Campion as well as project coordinator Catriona Kelly came in to the studio and helped in putting the idea together.
In Memoriam

 
27/04/2021 As our first event, we have launched a call out 'In Memoriam' for artists based in Derby and Derbyshire to support the project by making postcard-sized artworks. Our aim through this is to support both our communities and artists. Our selected participants have received art packs which they used in various form of expression – a written poem, painting or drawing, collage or a photograph. Anything that expresses a sense of closure, of emotional relief, of expressing what has been unable to do so as yet.
These wonderful creations and contributions have been exhibited in an online show at Artcore Gallery. As well as launching a 'Silent Auction' with 50% of the proceeds going to the artist and 50% to support Artcore in continuing our 'In Our Thoughts' project, working with our communities to support them through the pandemic.
It has been a great success working with everyone collectively in supporting this project as well as our communities. Throughout April and May 2021 we have held bi-weekly meetings online through Zoom, to keep connected with each other, sharing our thoughts and ideas on how to proceed with this project. Our future ideas include having a Community Call Out for a single large piece for an exhibition, which the participants can contribute to creatively. Whether it be through artwork, poem or photography it would hugely influence the main outcome of our second Show. If you would like to contribute please do contact us through email or drop us a call.