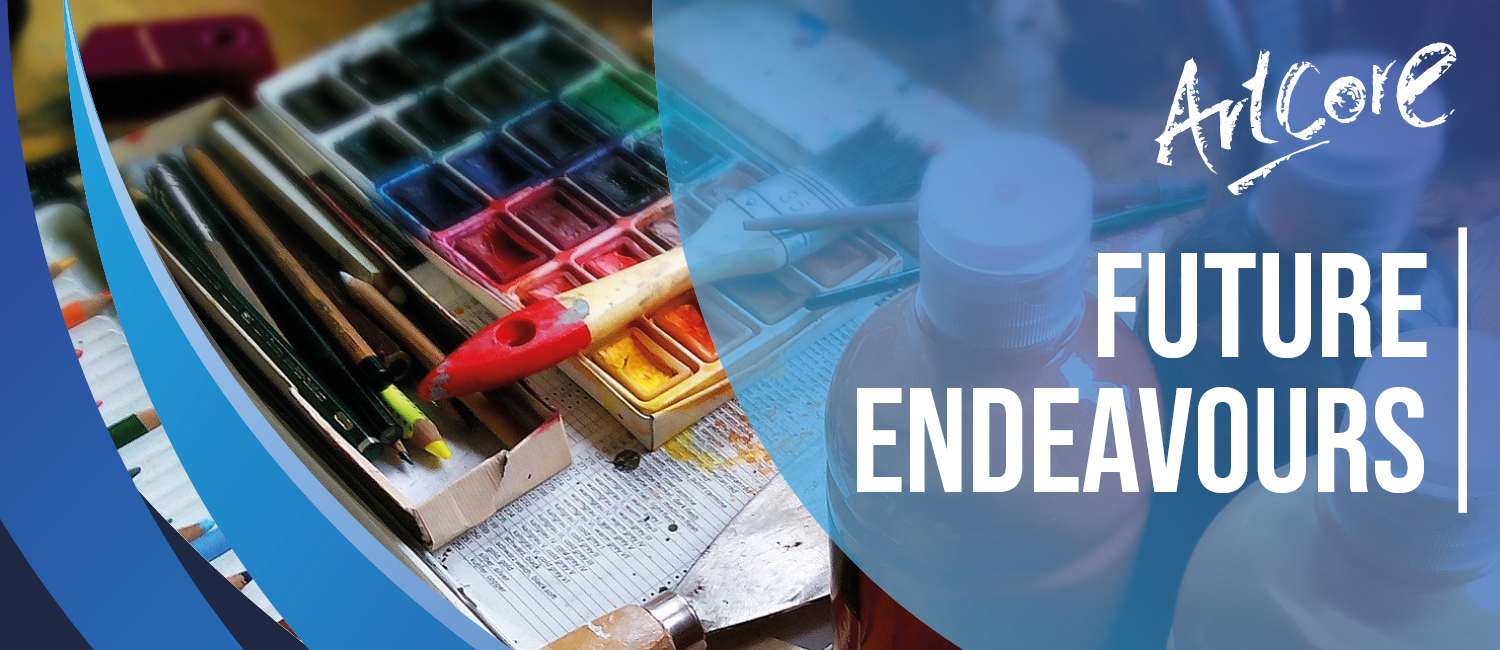 When:
Every Saturday:
12:30-14:00  (10 – 13 year olds)
14:30-16:00  (14 – 18 year olds)
Where:
Artcore site at 3 Charnwood Street, DE1 2GT, Derby
Booking:
To sign up, fill out the interest form https://bit.ly/ArtcoreSessions 
Alternatively give us a call 01332 384 561 
INTRODUCTION
Future Endeavours project has started in January which is designed for young people aged from 10-18 who are enthusiastic about getting their artistic ability unleash and develop new skills which will let them grow as creatives in the future. It is a chance to explore paths for future careers and opportunities.
So what is it all about?
Through this free project we aim to provide a fun course where participants will work together with professional artists to share ideas, explore different art mediums such as print-making, ceramics, motion animation and other digital technologies in order to deliver new skills and practice something new. It is a great chance to promote the development of transferable life skills by learning through STEM themes (Science, Technology, Engineering and Mathematics). Sessions last for 90 minutes on Saturday through 6 weeks.
PROJECT UPDATE

Bundle Dying and Natural Paints – 23rd October

This was our fun final session with Dora who has been showing us how to create art from natural materials over the last few weeks.  We finished off with bundle dying, using flowers, turmeric and food colouring again for our creations! There are certainly plenty of creative hands in the groups!  A huge thank you to Dora for all her guidance and encouragement over the last four weeks – it has been fantastic working with her and learning so much.

Using More Natural Materials to Create Drawings – 16th October 

We had another variety of materials this week such as avocado, shaving cream and food colouring.  We also worked with the inks created from boiling our black beans last week.  The groups worked collaboratively and made some very inspiring work using their materials – we even had a few more people join us!  Some of our participants went on to work on an activity marbling inks which was also plenty of fun and had amazing results!

Creating Natural Inks from Berries and Herbs – 9th October 

Like last week, we had lots of fun experimenting with natural dyes, this time using black beans, and the groups were very interested in getting stuck into the activities.  We used our trusty hot plate to create a deep purple colour!  We also used raspberries and blueberries to create our own natural inks as well as some paprika.  The groups mashed out their fruits, strained them using muslin and then painted their own designs with the inks.  Dora is really showing us a wide range of natural techniques for creating art.

Natural Dying with Turmeric, Soya Milk and Coffee – 2nd October 

We had a great start to our natural dying sessions this week with Dora showing the group the shibori technique, painting with coffee and preparing soya milk drawings on muslin to be dyed with avocados.  Our groups were both very excited by the addition of the hot plate and adding their shibori fabrics to the bright orange turmeric mixture – the finished pieces will be ready to unveil in the next class!  No one in our groups had experimented with natural dyes before so we will have some very eager participants over the next few weeks.

Welcome to our latest artist, Theodora Prassa 

Starting from 2nd October, Dora will be running our Future Endeavours classes focusing on natural dyes and creating sustainable artworks.  Dora is an artist and textile designer so has plenty of knowledge and fun tips that she can share with the group!  We are looking forward to the sessions getting started.

A massive thank you also to Clare for her fantastic printing sessions and for her encouragement and guidance in creating the beautiful pieces for Derby Peace Week.  This included both a large group piece and individual lino-cut prints  – amazing!

Our Collaborative Creations Completed – 25th September

Brilliant collaborative work from Group One adding wonderful mono-printed birds to their wall hanging.  I loved seeing all the teamwork and the creativity as they made their pieces their own!  In Group Two, we had amazing reduction prints and lino cuts today as well!  There are certainly some budding printmakers attending Artcore.  I'm so impressed!

Thanks for a fantastic Saturday afternoon – Clare

The Printing Begins – 18th September

There was some fantastic energy at Artcore today!

Both groups were super productive creating reduction prints with repeat patterns to celebrate Derby Peace Week!  There were lots of colours and well thought-out designs.  It was wonderful inky fun and I can't wait to see it all come together next week as we complete our wall hanging.  We've got some sneak peeks of the process so far below!

-Clare

Designing and Preparing Our Prints – 11th September

In our two groups, we started off the block by thinking about peace through the different symbols and words that we associate with it.  We looked at patterns from cultures and communities all over the world to make a mind-map of what we wanted to design to portray our ideas of peace for our group piece.  We then designed our own printing plate using these designs and began carving out the creations.  Our first group did this using Styrofoam and pencils while group two practiced using cutting tools and lino to begin their carving next week!

It was a very inspiring class and we can't wait to continue bringing our designs to life!

New Block 5  – Clare Morgan!

Take a look at our brand new block of Future Endeavours with new artist Clare Morgan! Clare has lots of experience working with different forms of printmaking from mono-printing, lino cutting and reduction printing.  Clare will be working with our young people on the theme of Art in Action, focusing on creating patterns and prints that will culminate into a large group piece celebrating Derby Peace Week!  We are very excited to bring her on and seeing the amazing outcome of her workshops!

Looking at different type of fossils – 24th July 

Kathryn Borg introduced the class to fossils and elements of the earth. Participants were really intrigues of where the fossils come from and all the different types you can find. Kathryn brought a very interesting science book with loads of images and information about this subject which was very interesting to learn. As well as some actual fossils she collected herself. Participants went on to sculpting some of their own personalised fossils out of clay, taking in the information about shape, pattern and thickness. Everyone's fossils came out very well and they have enjoyed it!

Exploring sedimentary layers and strata to recreate in clay – 17th July 2021

It was such a hot day today, but the participants all came in with a smile and enthusiasm. This week we were looking at rocks / sedimentary layers / strata. We discussed what these were and I brought in an information sheet for them, with pictures, so they could see the layers in the natural environment. We talked about how these would have been formed, what they were made up from and what could be in these layers such as fossils.

I wanted the children to be able to recreate these in clay, so I brought in a number of different coloured clays and slips and I gave a demonstration on how they could make them. The children rolled out their base, then started to add their different coloured and marbled clay coils, these were scored and slipped onto the base to form layers. It was such a fun session and the children created some very creative layered clay tiles. These will then be scrapped down once dried to reveal the layers in clay.

Investigating the ancient art of Cave Painting – 10th July 2021 

In this first session of the new block we were looking at ancient cave art, how it was created, the natural materials used to create it and where they were on the periodic table. We firstly discussed cave art, the time period of when it was created, where some of this art was found and the symbols, patterns, drawings used to create it. We looked at a sheet of symbols collected from each continent from cave art and what some of these could mean, Also, the similarities and differences between the art from each of the continents. We cut out animal pictures to create templates and stencils to paint around and into. I explained the iron oxide I brought into the class and other pigments used to create cave art. These elements were then found on the periodic table.

I mixed some of the iron oxide with water and with other paint colours and these were then used to create amazing cave art paintings. We even made large pictures with all the participants hands to represent ancient cave art. We all had fun getting our hands dirty and creating art using an authentic pigment.

Future Endeavours Block 4 – Exploring Earth 

Artist and ceramicist Kathryn Borg will be rejoining the Future Endeavours sessions for Block 4 of the project where she will be guiding the groups through an exploration of Earth through the humble rock.  By experimenting with oxides, investigating cave paintings, recreating sedimentary layers and ammonites, we have a fun few weeks lined up with a very geological focus!  We cannot wait!

Nature Painting Week 7

We had a very fun session with artist Jane Dearden who delivered a special workshop on painting and collage. The theme was surrounding nature and birds. Children had a selection of birds to choose from and make it their main subject. We split everyone into 2 groups and each table had a different task to complete. Table 1 was a one big group project where participants focused on proportions and composition on one large canvas as a challenge. Table 2 had individual pieces to complete focusing on collage and painting. It was a very fun and messy day everyone really enjoyed it and brought home some wonderful pieces of art.

Inspiring Surroundings Week 6

GROUP 1 (12.30pm-2pm)

It's week 6 of Inspiring surroundings and today we were looking at putting together our architectural buildings in clay. The children have been working hard on their designs and models for the last few weeks and today was the day they made their designs out of clay.  The first step was to roll out the clay, measure and cut the shapes that were needed. I demonstrated how to join the clay together using a score and slip method and the children picked this up really quickly. The build began and quickly the constructions began to take shape. Holes were cut out for the windows, roofs and domes were fitted and their 3D clay designs were created. I was excited to see these come together, the children worked extremely hard, had lots of patience and I could see their confidence grow with using the clay. It was a great session today.

GROUP 2 (2.30pm-4pm)

As with group 1 the participants created their 3D buildings from clay, using their own designs taken from the drawings and maquettes they had made. They showed great skill with the clay and observed well while I gave a demonstration. They rolled out the clay, measured and cut the sizes and shapes needed to create their buildings. Again like group 1 they created some wonderful and amazing 3D clay buildings. All there is left for me to do is let them dry and fire them in the kiln.

Inspiring Surroundings Week 5

GROUP 1 (12.30pm-2pm)

Well what a beautiful sunny day, all the children came into the session with high spirits and keen to know what we would be creating. It was a progression from last week where they drew and designed their own buildings using the sketches they had made from the local architecture. So this week they would be making 3D card and cardboard maquettes ( these are preliminary models to be used when they make their designs from clay). Some of the children came into the session fully loaded with cardboard boxes, tubes, cereal packets etc, ready to be used to create their models. They busily measured and cut the cardboard to size and shape, only asking for help from the adults to cut out the small fiddly areas. Using their drawn designs they started to create their 3D models by sticking together the card and cardboard.

The children were focused, shared their materials really well, there was great communication and a buzz of activity. The outcome was fantastic, the models they made really encapsulated their designs.

GROUP 2 (2.30pm-4pm)

As with group 1, the group also used their sketches and designs to create 3D card and cardboard maquettes. Luckily, we had some cardboard and tubes left over for the participants to use, so again they busily measured and cut the cardboard to size and shape, only asking for help to cut out small areas.

Again, they created some really wonderful models utilising their own designs, inspired by architectural details of the local area. These will then be used next week when they make their designs in clay.

-Kathyn

Inspiring Surroundings Week 4

GROUP 1 (12.30pm-2pm)

This week we started to discuss and look at the architecture that is in the Derby and surrounding Artcore areas. We looked at their construction, pillar types, decorative details, age and types of buildings. We also discussed the types of buildings the children lived in and whether they are terrace, semi-detached, detached, flats, bungalow etc. I also brought in photographs of buildings and architecture from the Derby area for the children to study.

Luckily, the sun was shining and we all went outside with pencils and paper and explored the local Artcore area. I really wanted the children to observe, look up and draw details of the buildings including the building, window and door shapes, look at the decorative tiles that were incorporated into the exterior of the walls, roof designs, roof finials and any other details they wanted to draw.  We then went back into the Artcore building and this is when we discussed what they had seen.  It was now their turn to create and design a building, utilising the drawings and designs they had observed on the walk around the area. The children were great, enthusiastic, very creative and produced some detailed designs. These designs in the next few weeks will be transformed into 3D card / cardboard maquettes, then into 3D clay models.

We also were able to give out the plaster plaques the children made last week. These all came out so well and were so detailed with the plants and flowers.

-Kathryn

GROUP 2 (2.30pm-4pm)

Just as in group 1, we observed, explored, discussed and drew the architecture from the local Artcore area, concentrating on window and door designs, brick shapes, finials, roofs etc. Again, I really wanted the participants to look up, really observe and make notes and drawings of what they saw. Once back in the Artcore building, to make this more challenging, I proposed they design not just 1 wall of their building such as the front, but try, create and think about the whole of their building.

Again, these will be transformed from paper to 3D card / cardboard maquettes, then into clay models.

-Kathryn

Inspiring Surroundings Week 3

GROUP 1 (12.30pm-2pm)

Luckily the weather was perfect, so we all ventured outside to look at the trees, plants and flowers that surrounded the local area around Artcore. As we walked we observed, discussed plant names and their distinctive properties. There was such a vast array of different plants, grasses and flowers that grew around Artcore. We collected small cuttings ready to use in our clay and plaster plaques.

Inside we rolled out clay, cut to size and then impressed the cuttings into the clay. Plaster was then poured onto the clay slabs in a container and left to dry. When the plaster is dry, we can peel off the clay and reveal a 3D plaster impression of the impressed flowers and plants.

The children were all brilliant, observing, asking questions and working really well. I can't wait to show the children the results and give them their plaster plaques.

-Kathryn!

GROUP 2 (2.30pm-4pm)

In this session we discussed metal elements from the periodic table that could be used in the ceramic industry to colour clay and glazes. Some of these include Copper, Tin, Cobalt, Iron etc. I also explained about bodystains and how they worked like oxides to colour clay and glazes. So it was gloves and dust masks on and we kneaded the bodystains into the clay to change the colour.  We also looked at various petals shapes that could be created. The clay was rolled out, cut to shape, scored and slipped together and beautiful clay flowers started to be produced. In order to create 3D flowers some of these were pressed into bowls to form lovely curves. The group created some fantastic and very beautiful clay flowers. I'm looking forward to getting these fired once dry and adding a clear glaze to really bring out the coloured clay!

-Kathryn 🙂

Inspiring Surroundings Week 2

GROUP 1 (12.30pm-2pm)

Lots of keen children today, ready to get stuck into this weeks session. Today the group was focusing on observing the structure of various flowers, the difference in the petal shape and how we can create a 3D flower from paper and card. Using templates and the children's own ideas, they cut out petal shapes, from colourful card, graduating up in size. These were then stacked on top of each other to create the structure and the petals were curled to add volume. The last stage was to add a decorative button to cover the pin.

The children came up with some wonderful ideas and used some lovely complementing colours. A fun and creative session.

-Kathryn

GROUP 2 (2.30pm-4pm)

We still looked at the structure of flowers and petals, but in this session I wanted to create more volume in the flowers, so I demonstrated how to make origami flowers.

The group was really focused and followed the instructions with ease. They measured out and cut equal squares. We folded the paper to create 5 petals and these were then stuck together to make the final 3D flower. The participants chose some great colours and origami patterned paper to use and a button was added to hide the central joins.  The finished flowers were very effective and looked great as a big bouquet. Another fun session today.

-Kathryn

Inspiring Surroundings Week 1

GROUP 1 (12.30pm-2pm)

We had a great first session with lots of keen children to discover all about our natural surroundings. Unfortunately, the weather was against us and we were unable to venture out to look at the local area full of its flowers, plants, trees and natural materials. We instead discussed nature and studied beautiful and colourful flowers, concentrating and really observing their shapes, textures and colours. The children created some very detailed drawings and then painted them, trying to mix the colours correctly to the flowers and stems. The children were focused and created some incredible work. – Kathryn

GROUP 2 (2.30pm-4pm)

It was still raining, but this didn't dampen the group's spirits, we looked at the lovely flowers as in group one. They firstly drew very detailed areas of the flowers and leaves, these were then simplified and the images were drawn onto craft foam. I showed the group how to make an imprint into the craft foam, add the paint with a roller and these were used to print their designs onto paper.  Another brilliant session full of creativity, detailed and well observed drawings and the prints using the foam. – Kathryn

Block 3 – Inspiring Surroundings 

This month of May we are starting a whole new blog of Future Endeavours with exciting fun sessions run by artist Kathryn Borg. This Block we will be exploring natural organic forms, looking at how plants and flowers are grown. Kathryn will encourage participants to walk around nature, draw from it and make tree rubbings. As well as nature, students will also look at architecture and buildings in the theme of home. There will be a lot of hands-on activities, getting creative with thinking outside the box. Kathryn will introduce materials such as clay, cardboards, and card to create 3D sculptures.

Block 2 – Creative Growth 

In March we have started a whole new Block of Future Endeavours workshops, focusing on Creative Growth. Artist Fiona Adamson has been running these for young people on Zoom, as with the lockdown restrictions everything had to go online, but that does not stop us from being creative! Fiona has been encouraging and teaching students how to work with polymer clay to create art pieces using different techniques such as the jelly roll cane, the bullseye cane, leaf bowls and flowers. It is amazing to see what great work the individuals are creating using their material packs. At the end of the six week classes, we will put together a showcase demonstrating their final work.

Week 1 – First week started off with strong theme on nature and biology. Participants have used polymer clay to mould a leaf bowl, self-created the shape using fingers to sculpt and cut from the polymer clay sheet. Then using a real leaf to make an impression into the clay to create the realistic veins and stems of the leaf. Finishing off with shading in graphite, making a fantastic piece of artwork.

Week 2 – This week, participants had a chance to make a polymer clay covered ramekin jar. Started with choosing 2 colours and marbled them together into a cane. Once happy, students have manipulated the cane and sliced it to create veneer sheets that would be moulded around the jar to create a gorgeous pattern.

Week 3 – Carrying on with the different possibilities of sculpting clay and the ramekin jar, students have created two polymer clay canes – bull's eye and jelly roll cane using two clay colours. Manipulating and slicing it in a wat to fit around the jar to create a veneer pattern covered jar.

Week 4 –  This session we have explored the theme of nature. Students have rolled length of clay wrapped in on itself to create a single flower. Then sculpting tiny bud and petals to be put together into a rose.

Week 5 – Looking further at nature, this session was simple and self explanatory. Participants have created an easy, minimalistic leaf cane.

Week 6 – This final session of this blog, participants have made a wall name plaque incorporating all aspects created during previous sessions. Making their names made out of rolls of clay to create letters that will create the final group artwork collaboration, joining each plaque together. 

It has been a fantastic Block of exploring a wide range of materials and mostly having hands on every single session.

Below you can see the wonderful images of the progress the participants have made. It will be put into a final showcase that will demonstrate how nature and biology can be explored.

Block 1 – Seeing Things differently

Artist Hannah Lord of Flying Fish studios encouraged young people to see things differently. Through the five weekly sessions learners explored, wondered and created pieces using ordinary items from home. Thinking outside of the box to create something new.

Week 1 -First week is about Discovering Colours – looks very complex but it is actually much uncomplicated process that reveals an amazing effect! Hannah takes you through the method of making something unordinary with markers and water, into a piece of artwork. You can watch the first video down below, and check out our YouTube channel @Artcore where we have a collection of all the videos.

Hannah also gave a fun insight into new career pathway with participants taking part in our sessions on Instagram Live. At the end pupils had created art they can keep for themselves, gift to a loved one or even sell in the Artcore Gallery in Derby City Centre.

Week 2 – Artist Hannah Lord shows us how to experiment with wax and paint at home to create beautiful textured and unique patterns. This is very versatile technique where it can be done for postcards, greeting cards, artwork and much more. Using a wax stick to create invisible patterns first, and revealing them with a swoop of paintbrush.

Week 3 – This week we are exploring what we can use from the kitchen! Hannah shows us how to create easy bunting for any occasion, using food colouring and vegetable oil. Very creative technique that allows us to use the design created into something more.

Week 4 – This week we are staying in the kitchen and creating beautiful hanging decorations using a mixture of flour, salt and water.  A very simple art experiment using easy to find materials from your kitchen! This experiment showed just how easy it is to be creative no matter where you are and what you have.

Week 5 – This is our final workshop from this block of Future Endeavours with Hannah Lord who shows us a fun and easy experiment with baking soda and paint, to do at home and how to turn it into an artwork. Once we have a beautiful background, there and endless possibilities to go with your creations!

Check out the video below and the Gallery to see the whole process.