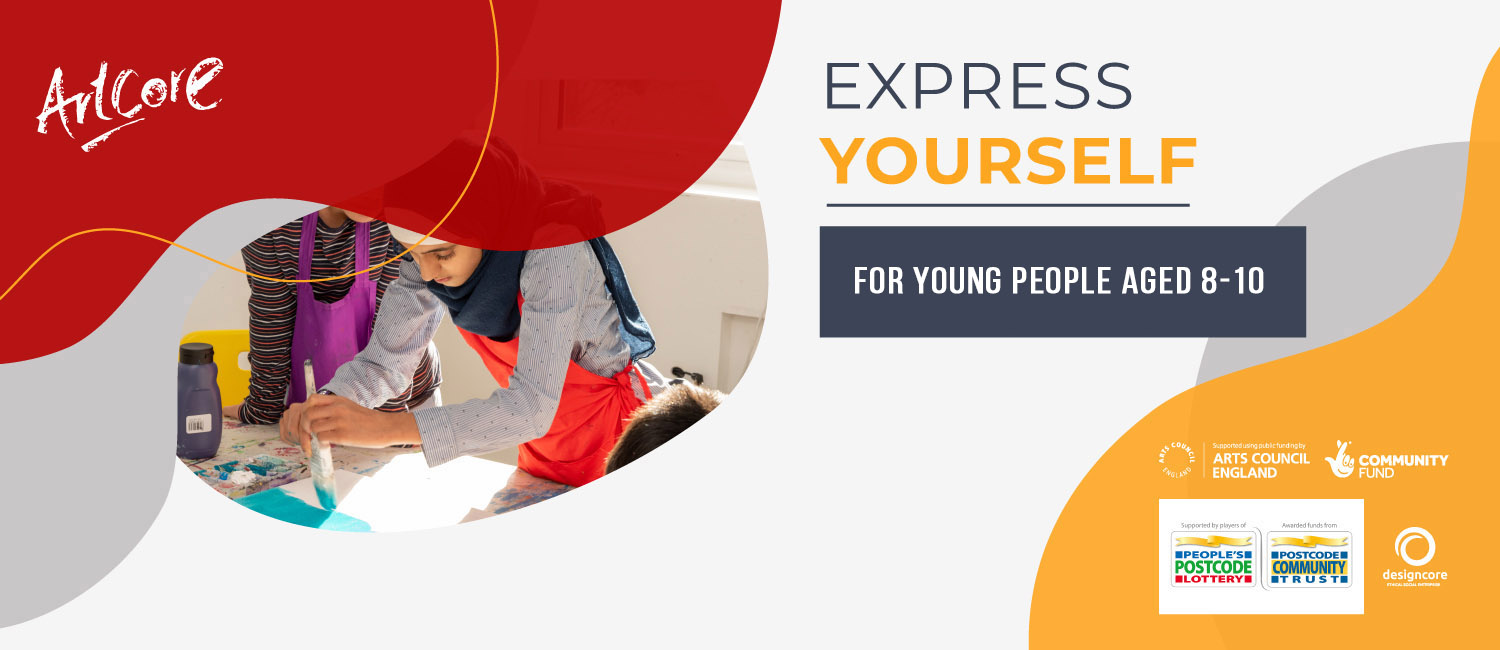 Express Yourself aims to promote confidence, self-esteem and initiative amongst young people aged 8-15 in Derby who may be from newly arrived communities and are looking to widen their skills in art. The goal is to offer opportunities where the participants can work and collaborate with both professional artists as well as one another using different art mediums. Each Block consists of 6 weekly afterschool workshops.
It is inclusive and accessible for families, and the use of art reduces potential for exclusion due to language barriers.
There are limited places for this one so please make sure you sign up in plenty of time to secure your spot and get your free materials pack.
Tuesdays 4th, 11th, 18th, 25th in May
All sessions are held at our Artcore site located on Charnwood Street, Derby.
 Sign up at: http://bit.ly/MayProgramme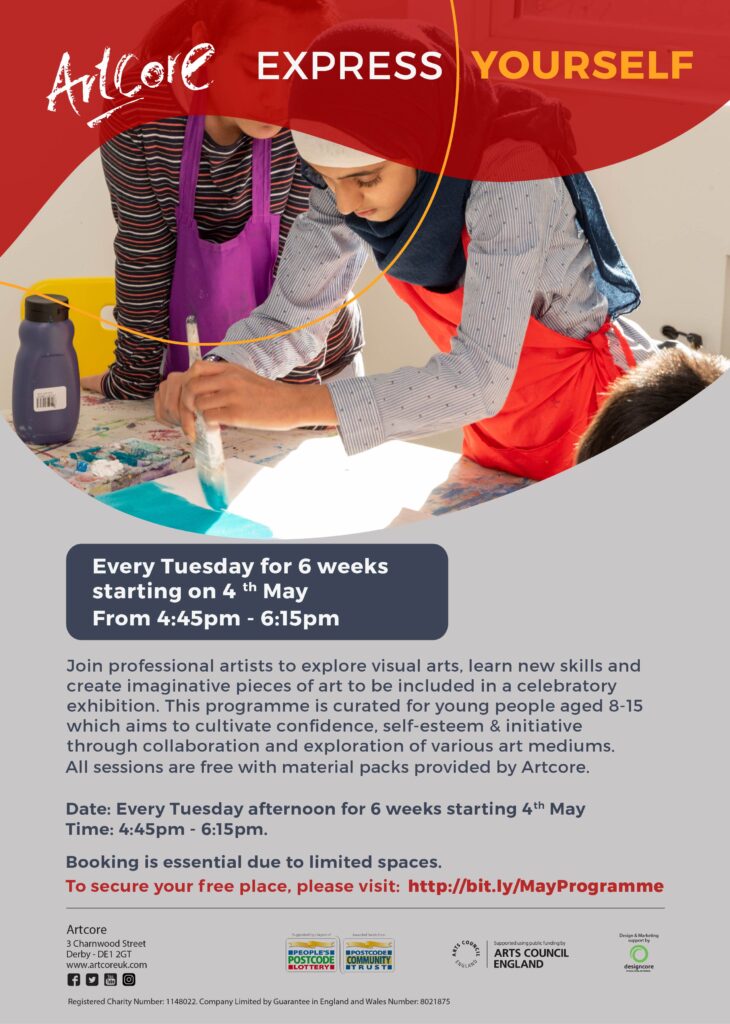 PROJECT UPDATE
Block 2 – Week 1 (4/5/2021)
Tuesdays session was so much fun.
We looked at how to make a portrait, focusing on colour, texture, and composition. Some worked from pictures and others worked from memory, using pencil, marker pens and paint on canvas. It was lovely and relaxed, and we had a good chat about school and listened to the radio, singing along to some of the songs. Next week we shall finish off the portraits with collage and start a new piece where we can use our imaginations to create a make believe character! I'm really looking forward to seeing what we come up with 😊
– Jane
Block 2 – Portraits – Who Will You Be Today?
This month of May we are starting a new block of Express Yourself with Artist Jane Dearden, who will deliver new set of sessions on the theme of Self Expression and portraiture. The sessions will involve exploring who we are on the inside, learning proportions and features of faces and portraits. As well as learning these skills, participants will also look at abstract work of portraiture and use a variety of art materials. The final piece will involve a large scale canvas, team work and putting all the skills learned in sessions into one big artwork.
Block 1 – Expression Through the Self and Surroundings

 
In March and April, artist Magdalena Aron worked with our participants encouraging them to think about personal expression and ideas behind making artworks. We had lots of fun in the sessions creating cartoons, fantasy windows, landscapes and mottos using painting and pastels. These have been added into scrapbooks that everyone can keep and continue to use to express themselves.
Week 1: First week Magdalena has introduced the use of black and white charcoal to produce different mark making and play with light & shadow to create a sense of motion and shape.
Week 2: Throughout the sessions participants are building confidence in the use of new art materials, so this week's introduction was with acrylic paints. Students have explored the idea of space and surroundings and how to create an image of the self in a tri-dimensional space e.g. a room, stage or city.
Week 3: After being presented with charcoal and acrylic, this week we combined all that students have learned and applied it to a theme of 'identity and the self'.
Week 4: This week we moved on to empowering each other to make decisions and collaborate on a group piece. All the skills learned in previous weeks are applied into producing a piece of artwork from start to finish; how to plan it, sketch it out, looking at composition and colour.
Week 5: Starting the session off with a warm up sketching, students have explored the deeper meaning of their artwork. Looking at not just producing a piece about the self and a place but also portraying the feeling in it. This will help to communicate with the world around you better.
Week 6: The final session is all about putting everything we learned into a reality. Still exploring self-identity and surroundings by making self-portraits and looking through a mirror. Incorporating the self, the space around you and paper collage into final piece of work.
Below you can see how much fun the participants have had over the sessions.