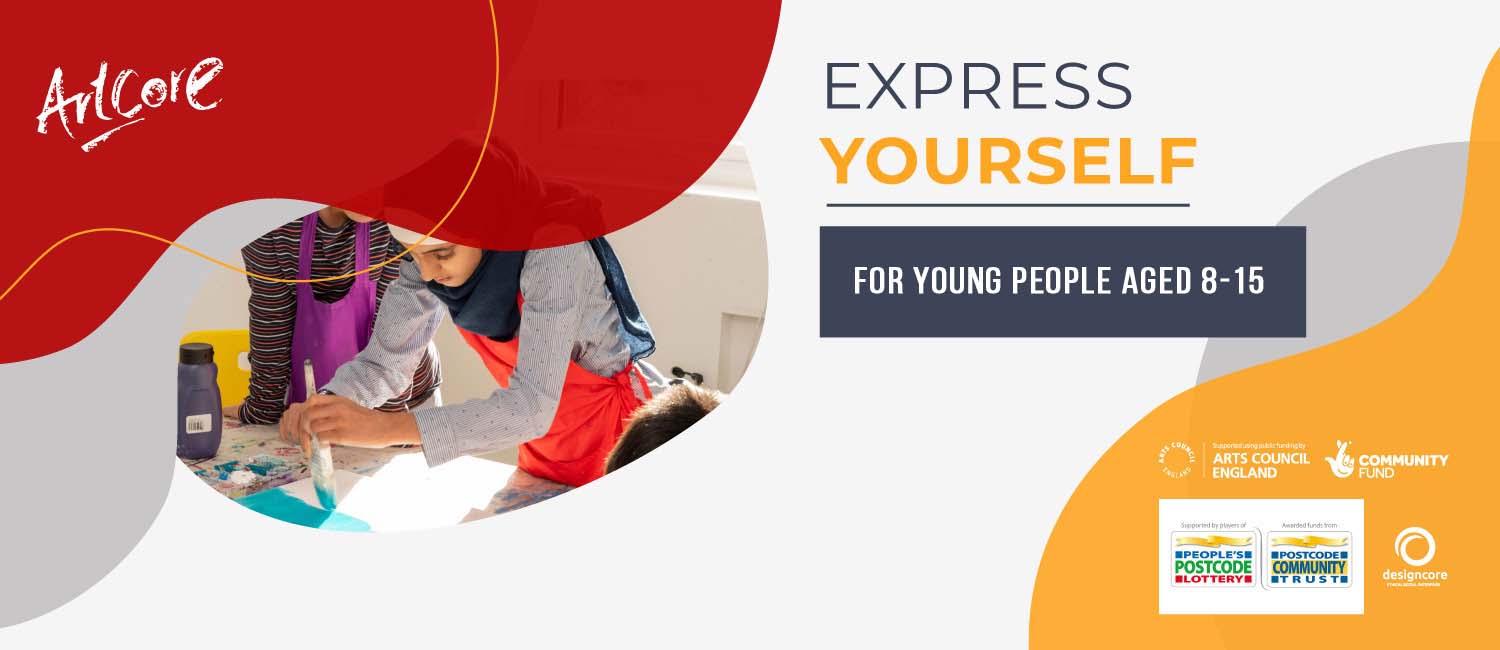 PROJECT UPDATE
Week 6 – Bricolage and Goodbyes  (26/10/21)
Today was the last creative art session for the group and the children pulled out all the stops to make some fantastic large scale pictures inspired by scenes from Derbyshire. They combined  painting, drawing, collage to produce  colourful and lively scenes featuring trees made from leaf rubbings, big blue painted skies featuring inky planets flowers, animals and drawings of people. A really inspiring and talented group of young artists, always enthusiastic and eager to learn new things.
Week 5 – Expressive Painting  (19/10/21)
This week was all about expressive painting. The children enjoyed mixing large quantities of poster paints into blues, greens and orange hues in order to plan a large scale background for a group landscape inspired piece. They discovered how to create textures with sponges and enjoyed talking about their career ideas for the future which included some exciting ideas including doctor, prime minister, vet, scientist and several artists!
Week 4 – Exploring Textural Effects  (12/10/21)
The children enjoyed exploring textures this week, looking at how they can create different textural effects using pencil and crayons. They created a series of rubbings of locally picked leaves and discovered how patterns in nature all link together and link up to us. They compiled their leaf rubbings into beautiful collaged landscapes of the Derbyshire countryside incorporating hills, sheep and other natural forms.
Week 3 – Experimenting with Poly-printing  (28/09/21)
Tonight's session was a hive of colourful activity. We started off by learning a little bit about about the origins of printing, from ancient Japanese woodblock carving to the printing presses the produced books and newspapers. The children enjoyed the practical process of carving, testing and printing their designs.  It was lovely to see the care and detail that went into some of the nature inspired designs.  During the break we played thumbs up – heads down and had fun talking about Halloween costume ideas.
Week 2 – Painting Ink Worlds  (21/09/21)
Great session again yesterday, the students enjoyed experimenting with a range of drawing inks to create their own circular 'ink worlds' inspired by the moon, the milky way and the Northern Lights. They learnt to create wax resist effects, and played with textural and colour effects using a sprinkling of salt and coffee. They enjoyed being able to control mark-making effects and how water is a wonderful flowing medium, and that the moon is 384,400km from the Earth.
Week 1 – Line Drawing & Introduction to mono-printing  (07/09/21)
In our first session of 'Express Yourself' for this term, our group of 16 students made an enthusiastic start to the session with some  warm up continuous line drawings. The session was designed to inspired students to think the famous features of Derby and Derbyshire such as Bakewell pies, Royal Crown Derby Pottery and students contributed their local knowledge of interesting features of Derby. They practised mark-making textures and learned to use mono-printing to create expressive and experimental prints, making little discoveries such as how to create backwards writing!
Block 4 – Artist Katie Sandoval introducing drawing incorporated into print making!
We are welcoming a new artist Katie Sandoval, she specialises in print making, specifically mono printing & drawing. We are excited to see the new upcoming workshops being delivered!
Block 3 – Week 4 (27/07/21)
In our final session we had the 3D printed version of our guardian to work with. The artist had gone away and modelled, printed and primed the creature ready to paint!
Block 3 – Week 3 (13/07/21)
In this session we took our refined drawings and started to digitise them using tablets and software. The results gave us a clearer, more detailed example of our guardian. Individual body parts were brought together and our creature was created through random selection.
Block 3 – Week 2 (06/07/21)
The group was assigned individual body parts to work on using the sketches from the week prior. Together we build up a cohesive set of drawings that were more refined. Using thicker, stronger marker pens we were able to carve out some robust designs ready to digitise.
Block 3 – Week 1 (29/06/21)
Ryan introduced the project to the group through presentation, showing examples of previous, similar workshops. They were all led out into the surrounding area of the gallery and given short, experimental drawing tasks to do. These would serve as the basis for the sketches for the next session.
Block 3 – Project Overview
These workshops saw our participants work together to create a guardian for Derby. Individual groups were assigned a different body part that was brought together to construct the whole.
They will work together on rough sketches, to more refined drawing of their character. These drawings will then be turned into a 3D model by the artist. This 3D model will be printed and given to the participants who will then paint it and take it home.
Block 3 – Derby Guardian Introduction  
We are excited to start a new block of Express Yourself workshops with artist Ryan Heath! Ryan has a particular interest in digital graphics and art, creating virtual reality and film. It will be exciting to see the participants engaging into this new block of workshops. The theme is surrounding Derby architecture looking at shapes, emblems and building structures to draw from and fantasy creatures from the history to inspire and create a 'Derby Guardian'.
Block 2 – Week 6 Final Block Session (15/6/2021)
On our last painting session we were delighted to finish our huge Artcore canvas, with everyone getting involved. Lots of colour mixing, wonderfully detailed drawings of our favourite animals with positive comments from our participants written within the work.
Block 2 – Week 5 (12/6/2021)
Last week we worked on the Ocean theme, and made work with lots of sea life and creatures. There was plenty of wonderful gestural work and super painting.
Our hanging canvas is well under way and we are determined to finish it this week, with the whole group getting involved! Still lots of painting to be done 😊
-Jane
Block 2 – Week 4 (25/5/2021)
We had a busy session last night, some of us started the design for our Artcore huge canvas and others were creating individual canvas pieces, full of our favourite animals, people and flowers.  Our participants designed and planned out the large scale canvas together taking time to discuss each stage, loving working as a team.
Next week we shall continue with our themes, exploring colour and texture and enjoying the freedom of paint 😊
-Jane
Block 2 – Week 3 (18/5/2021)
This week we had so much fun designing and creating our own t shirts, each of the t shirts were incredibly unique and wonderfully inspiring.  It did get a little messy! 😊
Next Tuesday we will be starting on our large scale canvas. All of the group will be working as a team bringing their ideas into making a huge colourful piece of art!
– Jane!
Block

2 – Week 2 (11/5/2021)
In yesterday's session of Express Yourself  we continued on the theme of portraits…. we added to our portraits by layering with paint and collage to build up the surfaces and add interest and depth. Others created a make believe creature and drew them on canvas, adding in details with acrylics, watercolour pencils and marker pens. They are fabulously colourful pieces!
Next week we are really excited to be designing and creating a t shirt all about us! A self portrait on a T-shirt with our own personal positive motto!
–  Jane 🙂
Block 2 – Week 1 (4/5/2021)
Tuesdays session was so much fun.
We looked at how to make a portrait, focusing on colour, texture, and composition. Some worked from pictures and others worked from memory, using pencil, marker pens and paint on canvas. It was lovely and relaxed, and we had a good chat about school and listened to the radio, singing along to some of the songs. Next week we shall finish off the portraits with collage and start a new piece where we can use our imaginations to create a make believe character! I'm really looking forward to seeing what we come up with 😊
– Jane
Block 2 – Portraits – Who Will You Be Today?
This month of May we are starting a new block of Express Yourself with Artist Jane Dearden, who will deliver new set of sessions on the theme of Self Expression and portraiture. The sessions will involve exploring who we are on the inside, learning proportions and features of faces and portraits. As well as learning these skills, participants will also look at abstract work of portraiture and use a variety of art materials. The final piece will involve a large scale canvas, team work and putting all the skills learned in sessions into one big artwork.
Block 1 – Expression Through the Self and Surroundings

 
In March and April, artist Magdalena Aron worked with our participants encouraging them to think about personal expression and ideas behind making artworks. We had lots of fun in the sessions creating cartoons, fantasy windows, landscapes and mottos using painting and pastels. These have been added into scrapbooks that everyone can keep and continue to use to express themselves.
Week 1: First week Magdalena has introduced the use of black and white charcoal to produce different mark making and play with light & shadow to create a sense of motion and shape.
Week 2: Throughout the sessions participants are building confidence in the use of new art materials, so this week's introduction was with acrylic paints. Students have explored the idea of space and surroundings and how to create an image of the self in a tri-dimensional space e.g. a room, stage or city.
Week 3: After being presented with charcoal and acrylic, this week we combined all that students have learned and applied it to a theme of 'identity and the self'.
Week 4: This week we moved on to empowering each other to make decisions and collaborate on a group piece. All the skills learned in previous weeks are applied into producing a piece of artwork from start to finish; how to plan it, sketch it out, looking at composition and colour.
Week 5: Starting the session off with a warm up sketching, students have explored the deeper meaning of their artwork. Looking at not just producing a piece about the self and a place but also portraying the feeling in it. This will help to communicate with the world around you better.
Week 6: The final session is all about putting everything we learned into a reality. Still exploring self-identity and surroundings by making self-portraits and looking through a mirror. Incorporating the self, the space around you and paper collage into final piece of work.
Below you can see how much fun the participants have had over the sessions.