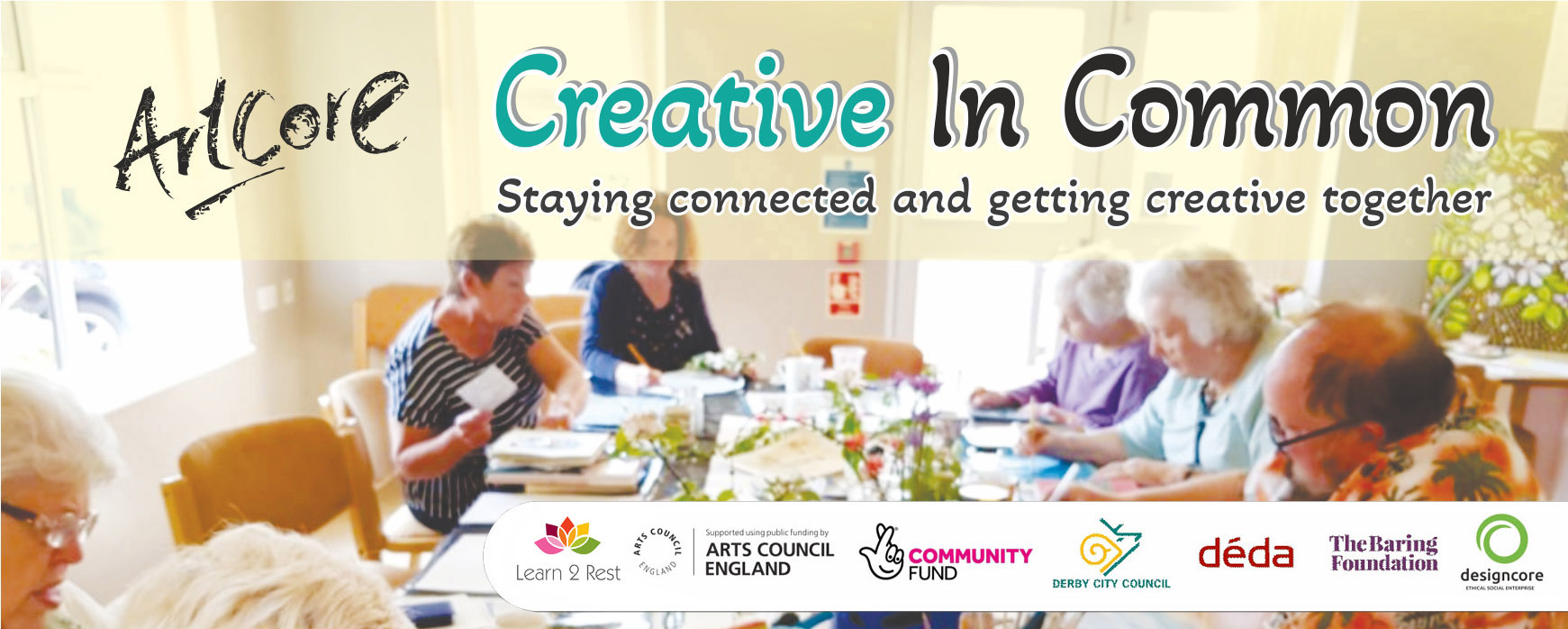 A cultural programme supported by the Arts Council England aimed at combating loneliness as a result of Covid-19.
Artcore is bringing free creative interventions for adults in a relaxed setting with simple, easy-to-follow art and movement activities and opportunities to increase your wellbeing, make new friends and stay connected.
We will provide you with everything you need to get signed up and take part including materials and resource sheets. All abilities are welcome to join for creativity, conversations and a cuppa!
All sessions are held at our Artcore site located on 3 Charnwood Street, DE1 2GT, Derby.
Sign up through http://bit.ly/JuneProgramme or e-mail : catriona@artcoreuk.com  TO BOOK YOUR PLACE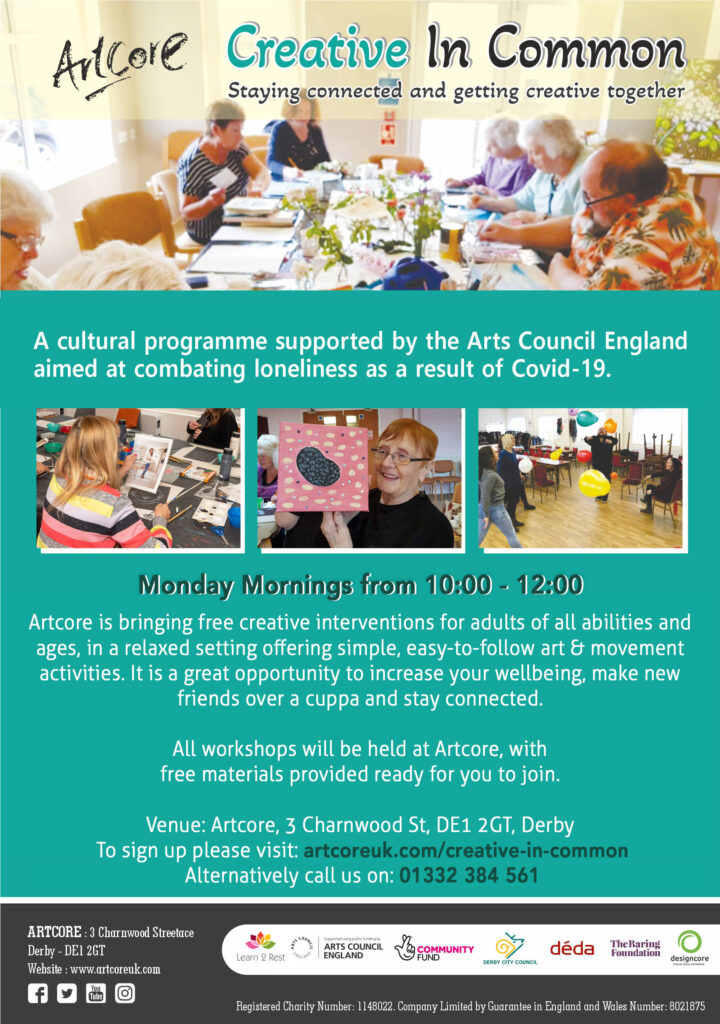 PROJECT UPDATE
21st June – Screen Printing
Today's Creative in Common was a very busy screen-printing session. First we thought about some positive experiences from the lockdown and drew these onto paper. We then had to think about how we can simplify for screen-print stencils. Some had made quite complex designs so we had a bit of work simplifying these. It took at least one print each before everyone grasped how it was going to work out but once they did they created some beautiful images. It was a busy session and help was needed quite a lot in this session. Therefore we only had time to take a couple of images of the work, hopefully the work will be completed next week and we can display it all together. The final screen-prints, once everyone is confident with their images will be printed onto bunting that can be hung on display at some point around the room or outside
-Nicki
14th June – Pattern Printing 
A busy session with approximately 12 participants.
In the session today we completed the veg printing and some participants used buttons, ribbon and felt to embellish their printed fabric.
Those that hadn't finished their small tapestry spent some time at the end of the session completing those.
Everyone was enjoying creating repeat patterns with the cut veg. There were some really lovely patterns and colourways.
-Nicki 🙂
7th June – Potato Prints 
Today we had a busy full house for the printing!
In todays session we used different types of veg,  including as potatoes, broccoli, leeks and  onions to create printed repeat patterns and designs. First we practiced on paper then chose our favourite bits from what we had printed and printed a design onto wrapping paper and/or fabric. The participants enjoyed the process and made some beautiful designs.
We had the options of different types of cutting tools including regular veg knives, lino tools and cookie cutters.
Most finished their designs and will work on fabric next week but some finished so will embellish their designs next week with embroidery, beads, buttons and sequins. They also have the option of making a small sewn item from the fabric.
-Nicki 🙂
24th May – Second Session – Finishing Tapestries  
In todays 'Creative in Common' session, some of the participants completed their tapestry. Others are still working on them and some took it home to complete.  There were some lovely little woven projects. One participant completed and made a necklace with her piece. Another is working on a pair of small woven earrings. We had a short demonstration on how to make the card loom and how to make a small card screen for screen printing. We will be screen printing in the last two sessions.
In the next session we will be printing with cut vegetables. A simple but effective process. The first half of the session we will create printed patterns on paper and practice mark-making with different types and shapes of veg. We will then continue onto fabric squares which can later be stitched and embellished if required. The end of the session we will complete the tapestries by neatening all the ends.
-Nicki!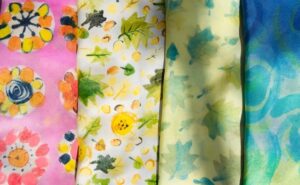 Nicki Dennett – Vegetable Printed Silk Fabric 
17th May – Start of Six-Week Block with Nicki Dennett 
 Today was the first session of six session with me. We will be working in three two – week blocks.
Block 1 – weaving a small tapestry
Block 2 – Veg Printing onto paper and/or fabric
Block 3 – Screen printing using paper stencils or mono-screen printing
Today participants made small collaged patterned designs using colourful paint chips.  They all made a few of these with the intention of choosing one design to copy and create a small tapestry using a cardboard loom.  Once the design was chosen they picked matching embroidery threads.  Most of the participants began weaving today. It was quite tricky at first to recreate the pattern for those who haven't woven before but everyone's work was looking amazing by the end.
We will complete these next week.  Once the tapestries are finished participants will embellish with beads, sew any stray threads into the tapestry and make it into either a small wall hanging, earrings or a pendant.
-Nicki 🙂
26th April – Normanton Park Session 
This Monday we took a trip to the lovely Normanton Park, being lucky with the weather as it was sunny and warm. Everyone sat down at the benches and desks in the park, keeping in mind their social distancing, and enjoyed the get together. Our guest speaker and mindfulness coach Pam Sidhu reflected on how we have been feeling through lockdown and how to help our minds slowly ease into coming out of isolation.  There was a lot of importance on being in the moment as we started our art exercises.
While everyone was enjoying the sunshine and chat, our guest artist Jane Dearden provided a great session advising us on how to explore art through nature. We offered a selection of art supplies like watercolour pencils and cards. Jane looked at how we can get inspired with new surroundings and what we can use from nature to create art. Participants have collected tree barks, plants and branches which were used to make markings and tracings on paper, creating patterns and textures with watercolours and pencil.
Everyone had enjoyed the session and having the chance to connect, explore art in nature and have some refreshments.
19th April – Arboretum Park Session 
We had a great session today at Arboretum Park, the weather has suited us well with sunshine and warmth. Our guest speaker Pam Sidhu has delivered a great mindfulness session, keeping everyone relaxed and enjoying the moment. It was great to see everyone interacting in the session while still keeping in line with social distancing and lockdown precautions. We spent 1 Hour with Pam having a chat and sharing our feelings, and then a lovely sketching and drawing class with Jane Dearden. Finished off with a cup of hot tea and some refreshments. Our next session will be at Normanton Park which we are looking forward to.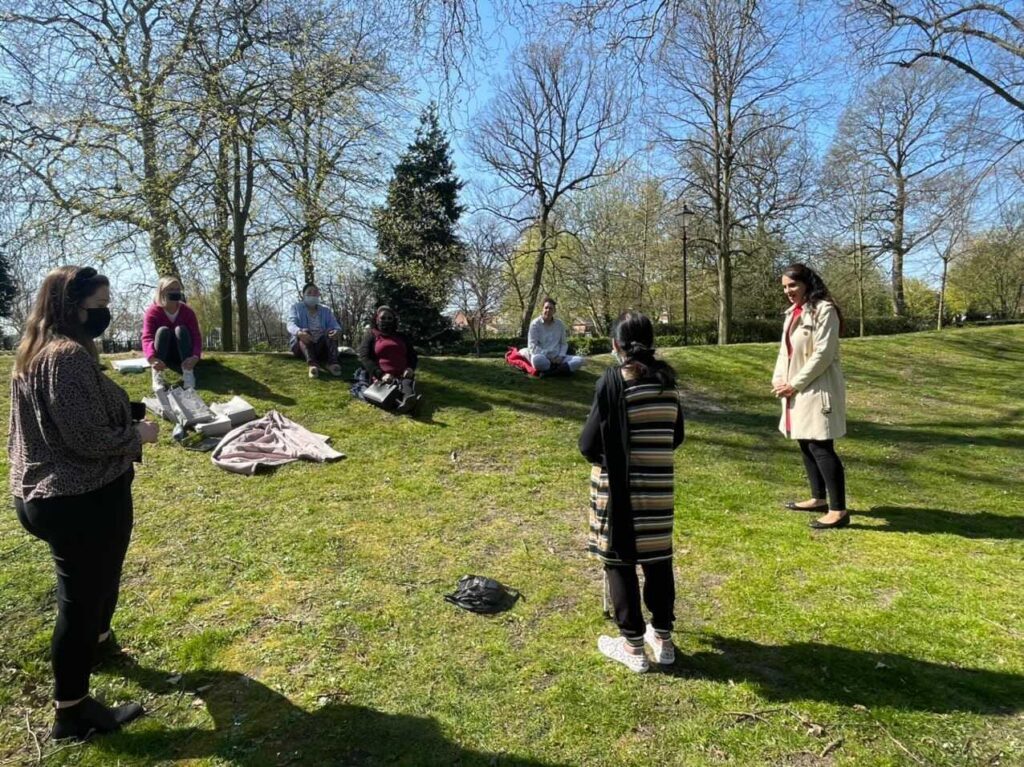 New Socially-Distanced Sessions at Artcore 
This month in April we started a new project which involves community sessions for adults of all ages, to join us in creative activities that promote wellbeing, mindfulness and connection. It is a chance to meet new friends, have a chat and take part in easy-to-follow art and movement activities. This programme is all about staying connected and getting creative together. Over the lockdown some folks might have experienced loneliness and separation from friends and family. We want this programme to be an opportunity to meet and enjoy the reunion after a long while.
The sessions will take place partially online and partially through socially-distanced outdoor workshops. Supported by the Arts Council England, all materials and resources will be provided so you can take part with ease.  Adults of all abilities are welcome to join us for creativity, conversation and a cuppa however material packs are limited so please sign up at http://bit.ly/MayProgramme
5th April at 11am – Painting Kindness Rocks (Facebook Live)
12th April at 11am – Easy Origami Animals (Facebook Live)
19th April from 11am-1pm – Sketching and Mindfulness at Arboretum Park
26th April from 11am-1pm – Sketching and Mindfulness at Normanton Park