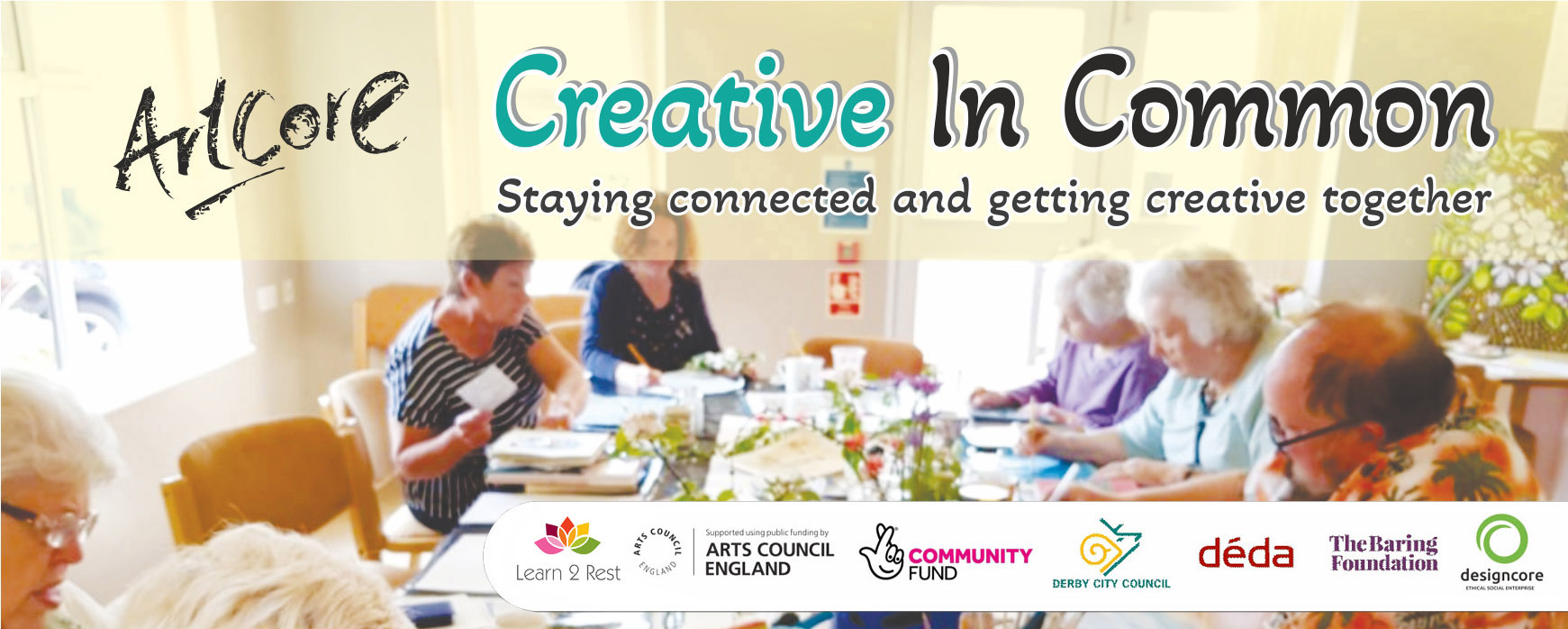 A cultural programme supported by the Arts Council England aimed at combating loneliness as a result of Covid-19.
Artcore is bringing free creative interventions for adults in a relaxed setting with simple, easy-to-follow art and movement activities and opportunities to increase your wellbeing, make new friends and stay connected.
We will provide you with everything you need to get signed up and take part including materials and resource sheets. All abilities are welcome to join for creativity, conversations and a cuppa!
All sessions are held at our Artcore site located on Charnwood Street, Derby.
Sign up through http://bit.ly/MayProgramme or e-mail : catriona@artcoreuk.com  TO BOOK YOUR PLACE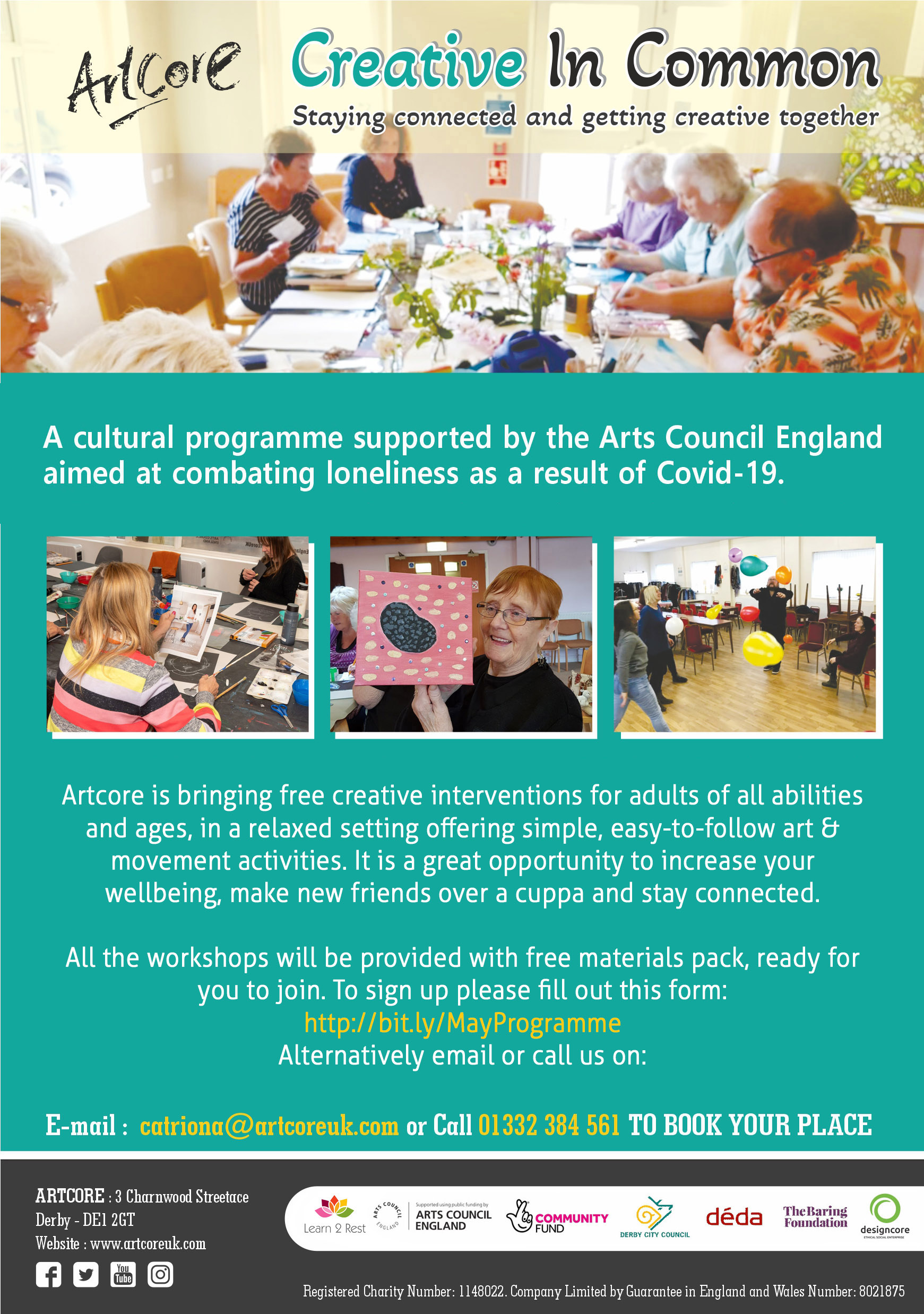 PROJECT UPDATE
(06/04/21) This month in April we started a new project which involves community sessions for adults of all ages, to join us in creative activities that promote wellbeing, mindfulness and connection. It is a chance to meet new friends, have a chat and take part in easy-to-follow art and movement activities. This programme is all about staying connected and getting creative together. Over the lockdown some folks might have experienced loneliness and separation from friends and family. We want this programme to be an opportunity to meet and enjoy the reunion after a long while.
The sessions will take place partially online and partially through socially-distanced outdoor workshops. Supported by the Arts Council England, all materials and resources will be provided so you can take part with ease.  Adults of all abilities are welcome to join us for creativity, conversation and a cuppa however material packs are limited so please sign up at http://bit.ly/MayProgramme
5th April at 11am – Painting Kindness Rocks (Facebook Live)
12th April at 11am – Easy Origami Animals (Facebook Live)
19th April from 11am-1pm – Sketching and Mindfulness at Arboretum Park
26th April from 11am-1pm – Sketching and Mindfulness at Normanton Park
26th April – Normanton Park Session 
This Monday we took a trip to the lovely Normanton Park, being lucky with the weather as it was sunny and warm. Everyone sat down at the benches and desks in the park, keeping in mind their social distancing, and enjoyed the get together. Our guest speaker and mindfulness coach Pam Sidhu reflected on how we have been feeling through lockdown and how to help our minds slowly ease into coming out of isolation.  There was a lot of importance on being in the moment as we started our art exercises.
While everyone was enjoying the sunshine and chat, our guest artist Jane Dearden provided a great session advising us on how to explore art through nature. We offered a selection of art supplies like watercolour pencils and cards. Jane looked at how we can get inspired with new surroundings and what we can use from nature to create art. Participants have collected tree barks, plants and branches which were used to make markings and tracings on paper, creating patterns and textures with watercolours and pencil.
Everyone had enjoyed the session and having the chance to connect, explore art in nature and have some refreshments.
19th April – Arboretum Park Session 
We had a great session today at Arboretum Park, the weather has suited us well with sunshine and warmth. Our guest speaker Pam Sidhu has delivered a great mindfulness session, keeping everyone relaxed and enjoying the moment. It was great to see everyone interacting in the session while still keeping in line with social distancing and lockdown precautions. We spent 1 Hour with Pam having a chat and sharing our feelings, and then a lovely sketching and drawing class with Jane Dearden. Finished off with a cup of hot tea and some refreshments. Our next session will be at Normanton Park which we are looking forward to.