Arise and Thrive
Join us to celebrate health and wellbeing at our Artcore Arise and Thrive 2020 event. Find out about the power of arts for wellbeing at our panel discussion, information stalls and engaging creative activities. There will also be a delicious healthy lunch and refreshments with time to network and find out about our upcoming workshop programme.
Wednesday 19th Feb 10am-1 pm , Artcore, 3 Charnwood Street, Derby DE1 2GT.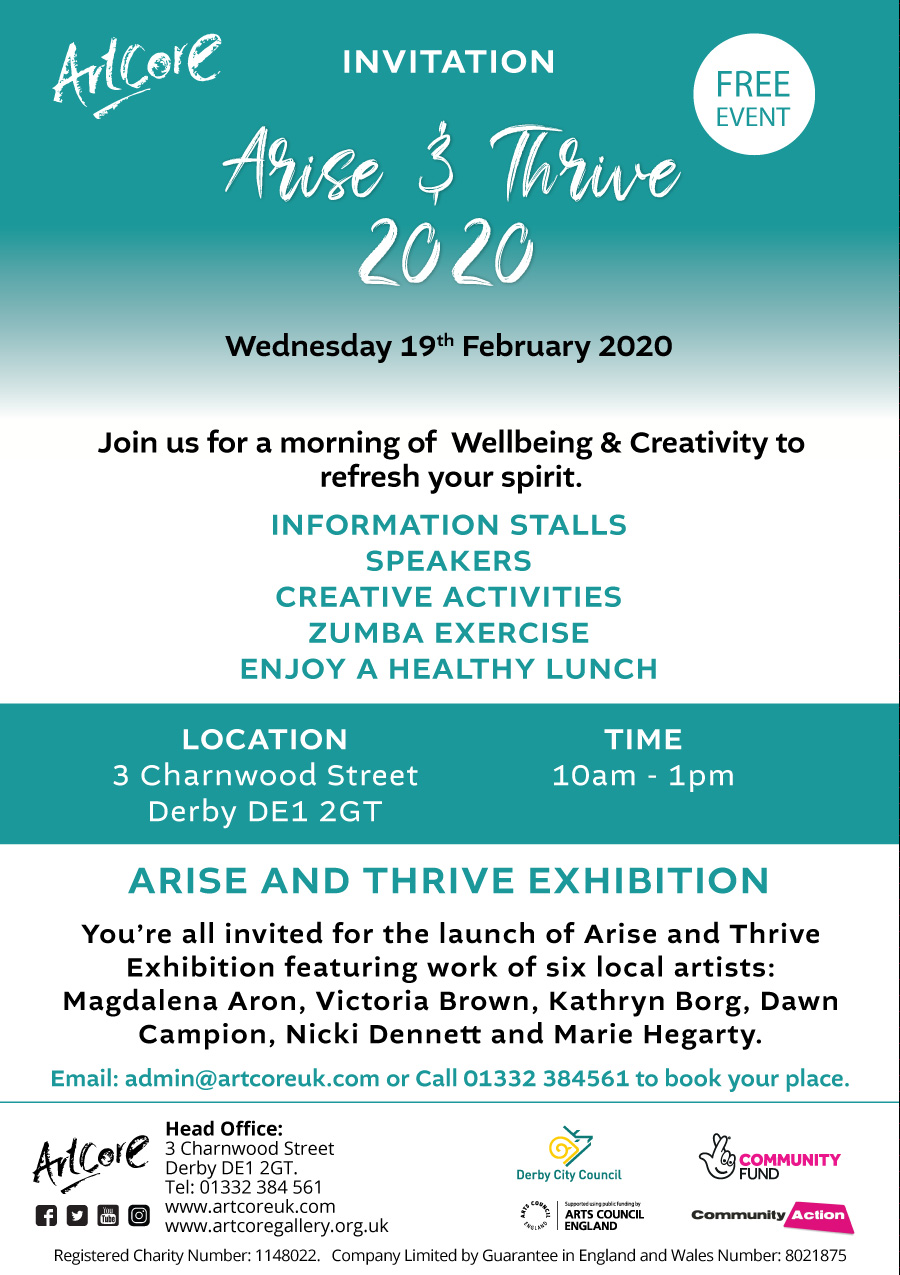 On Tuesday 19th February we celebrated a health and wellbeing Open Day for the benefit of the local community. We welcomed people to our building joining us for a morning of mindfulness and creativity. It was a beautiful celebration of harmony where in these busy times we opened our building for people to explore ways to refresh their spirit.
Pam Sidhu at Learn2Rest led a mindfulness workshop where participants learnt simple mindfulness skills of relaxing and bringing our awareness into the present moment. Emerciana Desouza ran a creative storytelling workshop using poems and mixed-media to tell stories through self-expression and creativity in a relaxed space. Kim Bormann led Motion Flow, a calming and fun movement workshop to orientate within the body. We experienced a flow of movements that focused on the fluidity of the spine and developed concentration outwards to all the joints of the body. This highlighted the sense of relaxation, weight and delicacy, using dynamic energy.
Visitors had the chance to view Artist Housing Prototype Show, curated by Eastside Projects, in our gallery and interact with its environment.
We were joined by the Yoga Centre for information on their services and enjoyed a delicious light lunch of healthy food shared together. Thank you to everyone who joined us to renew and revitalise our wellbeing together.