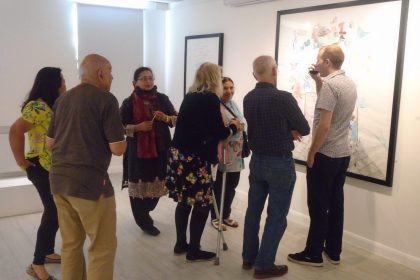 Artcore was proud to present the We are Asteroids exhibition with artworks by our two artists in residence; Gareth Bunting and Victoria Sharples on Thursday 20th June.
The residency borrowed its title from eco-philosopher Timothy Morton, who calls out humanity's negative effect on the planet. Gareth and Victoria took part in a two month residency which aimed to explore how artists can respond to the urgent need for change, and how visual art can change people's views.
For 'We are Asteroids', Gareth Bunting is exhibited two large scale ink paintings and a series of smaller pieces. His work depicts virtual worlds which he originally created in virtual reality, then painted in his signature dry brush style of ink painting. Gareth investigated what happens to the real, natural landscapes around us as we move further and further into virtual space, increasingly living on social media through carefully curated and exaggerated avatars of ourselves. Entertained by films and TV shows depicting dystopian worlds which we may well find ourselves heading towards in the near future, while we seem unable to deal with the hugely pressing issues of climate change and wealth inequality.
Gareth is influenced by Jean Baudrillard's writings on simulation, simulacrum, and the hyper real, and has created artwork which is a simulation of a simulation; through juxtaposed symbols and careful composition, he contrasts the real and the unreal, the natural and the man made, and comments on the age of the Anthroprocene which we now live in through his dreamlike inky landscapes.
Victoria responds to Timothy Morton's phrase – "Human beings are now the asteroid", which refers to the last mass extinction event in which the dinosaurs and 75% of all life was wiped out by an asteroid colliding with the Earth. Taking the title "We Are Asteroids' as both a proposition and title for this exhibition, Sharples presented a new series of works that consider the profound impact that consumer activity has had on the planet. Through the display of manufactured objects, that attempt to simulate something natural, the artist calls attention to such synthetic things, that are both familiar and unearthly. Here, the artist makes use of conceptual/material-affordances that point to the effects of capitalism, and the unease felt in the Anthropocene. Contributing to the argument that nature itself is no longer natural, Sharples exhibited artificial grass, polyester sponge, a plastic shell, and a marble effect duvet, which through their accumulative production, and disposal, will, too, eventually enter the geological strata.
The exhibition is open until the 4th of July.
Opening times: Monday to Friday 9.30am-4.30pm⠀
Artcore, 3 Charnwood Street, Derby, DE1 2GT