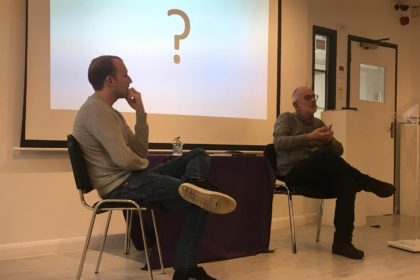 As part of our Art in Modern Culture commitment, we put on a range of artist talks in line with our residencies in the Artcore Gallery Space. In June we focused on the theme of the Climate Emergency and our previous residency 'We are Asteroids;' titled after eco-philosopher Timothy Morton, who calls out the effect of humans on our planet. The two month residency aimed to explore how artists can respond to the urgent need for change, and how visual art can change people's views.
We were delighted to welcome renowned artist John Newling to the Artcore Gallery space on a very rainy Friday 7th June. The weather might have been awful, but this didn't stop a gripping discussion alongside our previous artist in residence, Gareth Bunting, on how artists can respond to the climate emergency.
Newling was born in Birmingham in 1952 and has an acclaimed international reputation creating projects and installing works in the UK and many other countries. He is known as a pioneer of public art with a social purpose. His works explores the natural world and the social and economic systems of society – such as money or religion. To this end Newling has innovated the possibilities and benefits for art in a renewed social and conceptual framework.
Through the discussions, we saw the focus on how scientists warn us of the consequences of our human impact on the environment and how the arts help us visualise the consequences of climate change and natural catastrophe, eliciting emotional responses that prompt action. By looking to the past, we can understand historical examples of conflict and climate and the unintended consequences brought about by attempts to mitigate the effects of climate warming.
Gareth discussed his ink and paper illustrations that represent , "The virtual world transformed into a painting. It makes us question what happens to the natural world when we focus on technology." And John Newling touched on how, "artists have an ideal that they can make the world a better place, they are changing the world through their work."
The Power of Art was message of the evening and the duty of Artists to prompt spectators as to their choices that affect the planet and its future.