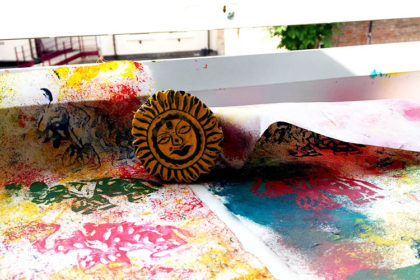 To mark Refugee Week, Artcore put on a series of workshops and an exhibition that displayed works and videos that showcased works of migrants and refugees exploring their stories through print, painting, textiles as well as narrating stories through film. Refugee Week takes place every year across the world in the week leading up to, World Refugee Day on the 20 June. In the UK, Refugee Week is a nationwide programme of arts, cultural and educational events that celebrate the contribution of refugees to the UK, and encourages a better understanding between communities. Staying true to the objectives of Refugee Week, the Home from Home workshop and exhibition facilitated positive encounters between refugees and the general public in order to encourage greater understanding and overcome hostility. We showcased the talent and expertise that refugees bring with them to the UK through visual arts.
We also invited other affiliate groups that were involved with Derby Refugee week that brought their group participants along to the workshop which included; Upbeat Communities, Derbyshire Refugee Solidarity and New Arrival Community Group.
The day began with a workshop where participants collated their block printed fabrics that they had developed over the previous sessions, and transformed them into final objects such as pillow cases, bags and even jewellery. We prompted questions such has; What does Home mean to you? & What makes Derby your Home?
We also had BBC Radio Derby interview our director Ruchita Shaikh and our delivery artist Nicki Dennett.