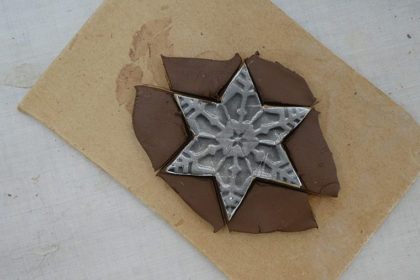 The fourth project looked at using clay to design and make terracotta hangings for Christmas decorations. Using terracotta clay with the concept to only fire once on a bisque fire to reveal the un-glazed beauty of the terracotta.
We made stencils of stars as a technical challenge, it is important to explore new challenge and skills in the creation process, wood blocks were used for patterns.
After the bisque firing the pieces were coloured using gold and silver pens and also masking some areas and spraying with gold and silver, the effect was beautiful and the participates are really pleased. Then dry the pieces were joined together with ribbon and segments of dried orange and cinnamon to fully embrace the Christmas theme. The participants enjoyed the sessions and were impressed with how professional and polished the finished pieces looked.