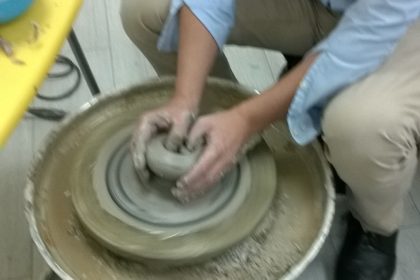 A very lively first session in the new block of 5, began by understanding our material, holding, kneading and really focusing on the texture of the medium.
We had a session filled with a combo of wheel work and hand-building techniques. Normally it is only until week 3 when as a class to we begin to learn the techniques required for throwing on the wheel. However, the participate was so enthusiastic as a tutor I just couldn't let those emotions dissolve and say no.
A slab pot was beginning to be constructed and centring began on the wheel, leading to a very lively enjoyable class.
After one failed attempt throwing, "Chubby" (name given by the participate) was thrown and quite a beautiful shape too.
On the other table an elegant triangle slab pot was formed, an all-round and enjoyable creative class looking forward to next week.
Quotes from participates are always treasured, "Lovely session. Definitely come again." Another, "Great class".