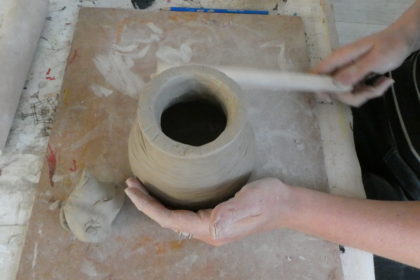 This evening the class were introduced to the wonders of coil pot making. I had informed the students last session that we would be beating our pots with sticks; this became quite the topic of interest in that session. Ideas began to form and develop; questions were asked: how do we form? How do we build? And most important, when do we hit the pots with the sticks? An energy and excitement began to spread as pieces started to grow and the sticks were called to work. There was a clam sensation and a sound of tap, tap, tap, as the pots held in the hands or on tables were requested to shape, reveal their hidden beauty. More coils were added, creations grew in form and structure. All the pots had their own individual appeal the personality of the maker began to show through their work, a design taken from a Viking artefact; a pot made from the coils themselves revealing its structure, and a little oil or vinegar jug, all so very different, all coil pots. I can see their confidence grow and know they value, and are starting to understand, clay as a material. It is a wonderful feeling as a tutor to see the beginning of a craft and watching it develop into a skill, the dedication and commitment is already there, I am looking forward to next week which is the first session on the wheel!
Testimonials
The feedback from tonight's session is all you can ask for as a tutor:
Really enjoyable session, lovely to learn new techniques and the history behind them. Jane is a wonderful teacher with so much knowledge; she is a joy to listen to!
I feel more confident with the clay now as this is my second lesson. It is very relaxing and therapeutic.
I feel more comfortable using clay as I think I found it a lot easier having had some time to use it.
Felt confident and enjoyed thoroughly today's course. Looking forward to next week.