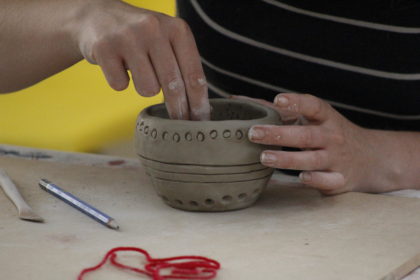 On Tuesday 24th July we held the first session in our new Ceramic Course. These new sessions are paid evening classes led by Jane Smith, they run from 6-8pm and cost £20 per session. During the course of the session we will cover slab pots, pinch pots, thumb pots, coil pots, throwing on the potter's wheel, sculptures, glazing, and firing in the kiln. All equipment and materials are provided.
Introduction to the course by Jane Smith:
The first session of our new Ceramic Course was a success; the atmosphere was relaxed, as everyone settled into a creative vibe. I explained to the class how we were going to approach the subject, which was most definitely hands on. To begin with there was a little nervousness but that soon gave way to excitement and energy as the session progressed. Pinch pots and slab sculptures began to evolve and take shape, I was so impressed when students began to explore their own unique ways to texture and structure as they became more confident handling the medium and the tools. They impressed me; they looked at design with new eyes unrestricted eyes, which in itself was beautiful. The buzz continued, ideas were exchanged an understanding of each other's desire to make something special, something completely their own. Talk in the room turned to the history of pottery, what is clay? We discussed Japanese pottery, Indian pottery. What is the difference between terracotta, porcelain and stoneware the questions were as important to me as the making was, the students were interested, a deep interest in their material was being born. Excitement grew as questions were asked about session 2, coil pots and how we would be beating these with sticks! This seemed to amuse, I am looking forward to the next session as I know they will impress me even more……
Testimonials
I loved using all the different tools on my designs and I enjoyed the class a lot more than I thought I would!
It was very fun and different to what I expected. I liked making both sculptures as I'd never done it before.
I really enjoyed the class today and was surprised with how I made two sculptures that were not that bad. I had lots of fun.
Really enjoyed the class, would like to continue it as a hobby. Easy to do and enjoyed.
Loved it! Didn't expect to have two usable pots at the end