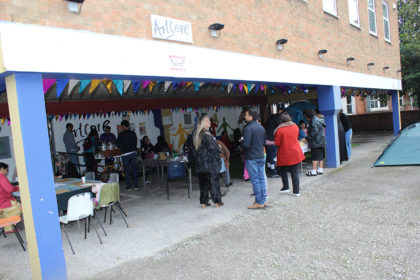 On Saturday 23rd September we continued our creative programme Chai and the City with a cup of chai and the launch of My Cup of Tea, a heritage project which explores the traditions and customs associated with drinking tea in Britain. My Cup of Tea examines the subject of tea and the part it plays in British society and how its significance has evolved over the years. The project will involve various levels of engagement through community participation, historical exploration and artistic practice. There will be tea parties, research sessions, trips and oral history recordings.
Indian curator Sandhya Gajjar talked to members of the arts and local community heard about the Bhasha Research and Publication Centre, Vadodara India. The Bhasha Trust was founded in 1996 as a platform for the voice of Adivasis and Nomads in order to revitalize healthcare, communicate human rights, innovate arts, craft, folklore and conserve language. There is more information on their valuable work here: http://www.bhasharesearch.org
We also celebrated the success of Joys of Creation with an exhibition of work. Participants worked for 6 months with 5 artists learning different art mediums. They created beautiful fabric appliques, plaster hands, canvases of the natural world, block prints and papier mache foods. Artist Jane Smith shared that the workshops were always a pleasure and everyone enjoyed working together and learning new techniques. The exhibition is open Monday-Friday 5th-13th Oct 9.30am-4.30pm at Artcore.
After this we enjoyed a delicious chai tea party and picnic lunch on our pop up lawn area and created badges to take away.
Our free Innocence & Expression creative workshops for 6-18year olds began 2-4pm with artist Michelle Reader. The children began to think about miniature worlds and used clay and collage to create creatures that might populate our imaginary worlds.
Thank you to everyone involved in supporting these events.
Zahir Shaikh
Ruchita Shaikh Shah
Hemal Talati
Antonietta Sacco
Huma Rani
Victoria Brown
Harlequin Arts
Déda Derby
Derby Museums
Jane Smith
Andrea Hadley-Johnson
Sudesh Arora
Heritage Lottery Fund
Derby City Council
Derby Book Festival
Children in need
University of Derby
Arts Council England
Designcore
Artcore Gallery