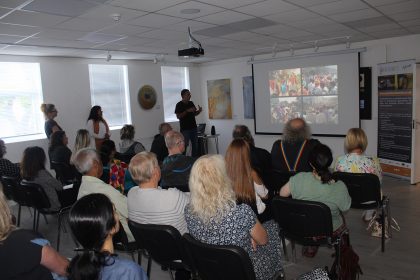 During our final Art Cafe Exchange members of the arts community listened to informative talks and had the opportunity to network with each other and the day's speakers. The topic for this artist dialogue focussed on the complex relationship between India and Britain. Stephen Munn engaged us with information on this year's Derby Festé as a development from the visit to the state of Gujurat in 2015 for Re:imagine India. Derby Festé arrives on 29 and 30 September, transforming Derby into a playground and offering opportunities for artists, performers and volunteers.
Ivan Smith shared his inspiring experience of the art residency Sandarbh in India. He discussed the customs he saw which gave context to his works. He detailed the challenges he faced during that time and how these have framed his practice since.
Artcore's current artists in residence, Victoria Brown and Nicki Dennett, also gave an up-date of their experience of their art Attachment residency at Artcore so far. They each thought about their personal connections to India and it's associations to Yoga, flowers and patterns. They are working towards their exhibition at Deda launching on 27th September. Thank you to everyone who has attended our four Art Café Exchange talks, they have been hugely successful with many positive outcomes. We see a need for it to continue in order to create a space to share opportunities and facilitate creative discussions in Derby to the wider artistic community.