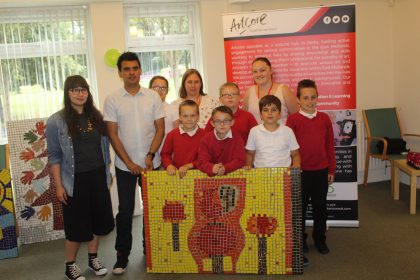 Admire and Inspire Celebration Event
During the Admire and Inspire project Artcore engaged with over 100 children over four Schools and two community centres in the local area to break down barriers and work collaboratively to create large collective mosaics.
We engaged young people in creative, constructive activities and provided an opportunity to encourage further engagement of students in a wider community. We admired the children's individuality and inspired them to achieve more.

This project helped the children to learn and enhance their creative skills through thought-provoking activities that built their confidence and knowledge. It also inspired and motivated pupils and embedded an aspect of community cohesion into schools; providing an opportunity to showcase pupils' work publicly to nurture a sense of pride and achievement.
Many thanks to Foundation Derbyshire and the Tom Carey Fund for supporting this great project.