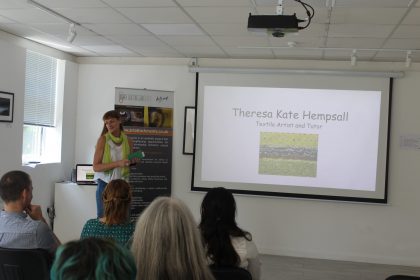 Over 20 members of the arts community attended Artcore's third Art Café Exchange on 26th May. Visitors listened to informative talks, shared a healthy lunch, and had the opportunity to network and talk to the speakers.
The topic for this artist dialogue focussed on the important connection between the arts and wellbeing. Enlightening talks were delivered by Mike Brown, Arts Development Manager at Derby City Council, who discussed his role as liaison between the arts and health sector; Fi Burke, Visual Arts curator at Air Arts, Derby Hospital's Arts Programme shared the ethos of the Air Arts programme, explaining their activities and defining what they look for in potential artists.
Artcore's current artists in residence, Martin Hyde and Theresa Hempsall, whose work will be displayed at London Road Community Hospital also gave an up-date of their experience of the residency so far, working towards their exhibition launch at Artcore on 23rdJune, and LRCH on 7th July.