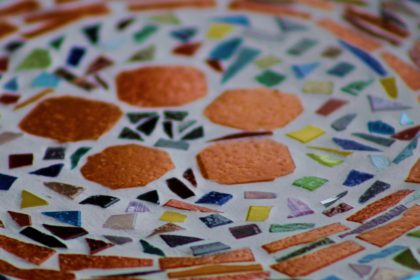 Craft Club Project One – Mosaic Coasters
Craft Club's first project was to make mosaic coasters. To begin the project the group had a planning meeting where they took inspiration from artists like Niki De Saint Phalle and Antoni Gaudí; together they looked at different styles of mosaics and discussed what theme could inspire their designs. The group eventually settled on the theme of nature, and each Maker planned designs based on natural forms, such as leaves, flowers, constellations, and landscapes.
Over the course of the next three weeks Craft Club met at Artcore each Tuesday to design and create their mosaics. They began by drawing out the shapes, then by gluing glass tiles onto the boards, and finally grouted their finished mosaics. Some Craft Club Makers decided to make sets of four or six coasters, while others created larger mosaics to act as placemats or cafetiere stands. By the final session a collection of unique, beautiful coasters had been created, ready for sale at CraftCore.